Sandwiches Again?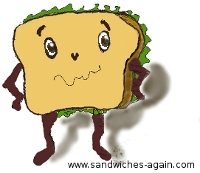 Most of us love eating sandwiches. Whether it's a traditional all-American burger or hot dog, or a fancy grilled portabella mushroom with barbecued red onions on toasted rye bread, you must admit that most of us love these quick, portable meals.
Even if you don't love a sandwich, you probably still eat them. For the most part, they're easy, portable, and quick. You can eat them on the run, which is a big advantage these days.

My favorite

One of my favorites is two or three slices of turkey on two slices of bread. No spread; no butter; no mayo, just bread and meat. Many times it's just one slice of bread folded in half with a couple slices of meat in between.
Take the short quiz below and if you can answer yes to at least four of them, then I'm sure you will agree – almost everyone loves a sandwich!
Kids love them – simple is usually best. From the ever favorite pbj, to grilled cheese, tuna, chicken salad, or a fun wrap; a sandwich is the perfect snack! A quick, nutritious, (and did I say quick?), meal kids can even make themselves.

So come join the fun. You'll find recipes for old favorites, gourmet, tea party, vegetarian, hot and cold, grilled, panini, dessert, and open faced sandwiches. You name it – you can find it here!
More than a sandwich

And just to round out our site, we'll also add recipes for your favorite sides. Soups, salads, fries, smoothies, and the like. Whatever makes your favorite sandwich into a meal, we'll add it here.

We'll review sandwich makers and grills. And most of all we invite you to join in and add your favorite recipes, pictures, or the best sandwich restaurant in your area. Once you visit, you'll be hooked, so be sure and bookmark us so you can find us again.

Join us and you'll never be able to say, "sandwiches again?" Any sandwich can be a fulfilling and nutritious meal. So if you haven't tried one, be sure and try one today. And tell all your friends so they can join in the fun!


| About Us|Contact Us|Survey
Disclaimer|Privacy Policy|Site Map|FAQs

Want to know what's happening at Sandwiches Again? Well you've come to the right place. Bookmark this page and you'll always get updates as soon as they're posted.
Here are the Top Ten pages at Sandwiches-Again.com. The most popular pages on our site. Check them out and see if you agree. Share them with other sandwich lovers. Tweet them and Like them on FB!!
Looking for a popular Sandwich Restaurant Directory to add your Sandwich restaurant, shop, or deli, to? You've found the best directory on the web! Need (or want) a FREE listing - You've found it!!!!!
Welcome to the International Sandwich Restaurant Directory! The place find your favorite sandwich restaurant, shop, or deli, anywhere in the world. So, when you need a sandwich now, check here first!
Looking for sandwiches? Those tasty fillings between two slices of bread, on a bun, or in a wrap. Here are quick links to find your favorites, from meat, to veggie, to tasty meals for tea...
Sandwich Recipes by Nasya is the place to find quick and easy sandwiches. They're easy for just about anyone - even kids can make them with a little help. Healthy, fresh, ingredients you have on hand.
Dessert Sandwiches - Yummy! What could be better. As a sandwich lover, I'm sure you've run into a few sandwiches that would fit into this category. Here are a few we like.
What are your favorite breakfast sandwiches? English muffin with ham and eggs, or a bagel with cream cheese and fruit? How about a pita pocket filled with eggs, home fries, cheese, and sliced turkey?
Egg Sandwich Recipes are so versatile. Change anyone of the ingredients and you have a totally different sandwich Change the bread or the way you cook the eggs. Add cheese or any number of fillings.
Ham Sandwiches are the most popular sandwich in America and in the world. So what's your favorite? Ham and cheese? Monte Cristo? Croque Monsier? Let's vote!
When you want meat sandwiches, nothing else will do. Whether it's cold cuts, roast beef, steak, or burgers, only the best ingredients will satisfy that longing. What's your favorite?
Picnic Sandwiches need to be easy to make, easy to eat, and easy to clean up after. So what's your favorite sandwich to take on a picnic? Is it a pita, a wrap, or an inside-out sandwich?
Pork Sandwiches cover a lot of territory, from BLT's to Pulled Pork Sandwiches. But what's the story behind pork? How do you prepare it? What cuts to use? Find out a little about pork here...
Poultry Sandwiches come in many shapes and sizes, tastes and flavors, to fit any and every palate. Check out some of our favorites here.
Salad sandwiches are probably one of the easiest sandwiches to make and eat. They can range from just a few ingredients to several. And from simple to gourmet.
Sandwich Spreads make the perfect sandwich when you want more than just a sandwich. There are so many things you can do with a spread. Why not try one - soon you will be making up your own...
Submarine sandwiches are a favorite in our house. You, no doubt, have your favorite sandwich restautant. What's ours? Subway. How about yours?
Tea sandwiches of every kind to create a wonderful Afternoon Tea. Add your favorite tea and dainty cookies for the perfect party.
Whether they are vegetarian sandwiches, vegan, or just plain veggies, you can make a sandwich without meat.
Got Wrap Sandwiches - will travel..When I think of these sandwiches, I think of portability, which is what you want now a days. A sandwich you can take and eat on the run - even if you're driving
Here is the Sandwich Recipe Index for Sandwiches Again? You can find all of the recipes we have on our site. All of the sandwiches - A through Z.
Looking for Sandwiches for Kids? Here's a list of sandwiches for the little ones. Some they can even make themselves. All of them are fun, which is a must when it has to do with kids.
Here's a list of Kids Sandwich Cookbooks for you. They have easy-to-make sandwich recipes that are delicious and fun to eat!
Read any fun sandwich books lately? No? Well nows a great time to start. You'll find a list of fun books with sandwiches as the main ingredient or should I say theme.
Here are some fun Kids Sandwich Videos for you. Each features an easy sandwich kids can make by themselves (with a little help), or a sandwich song. Check them out!
Breads are what make or break a sandwich. You want a sandwich bread that is big enough to handle your fillings.
More breads for your sandwiches, from biscuits to waffles. Straight from an old-fashioned cookbook, just like the same recipes your grandmother used to make. Try a few and see how you like them.
Salads are the perfect accompaniment to your favorite sandwich, especially during warmer weather. We've added a few of our regulars here and we'll be adding more to make a sandwich and salad meal.
If you've ever had smoothies with your sandwich, then you know that it's a great combination. If not, then you've been missing a treat. Come see our favorites and then add your own.
Soups go with sandwiches like fries go with burgers. Who hasn't had the old standby,
If you own a sandwich maker, but don't use it - shame on you! Just kidding. But you may be missing out on lots of fun sandwich ideas - from breakfast, to lunch, to dinner, as well as dessert!
Do you have Sandwich Restaurants that you go to over and over? They have the best Mushroom Burgers or the best Hoagie Sandwich. Find out what ours are and add your own favorites to the list.
Sandwich Restaurant Reviews are a great resource when you are trying to decide which restaurant to go to for lunch. They're especially helpful when you only have a few minutes for your lunchbreak.
What are your favorite Celebrities Favorite Sandwiches?
Ever read Poems About Sandwiches? I can't really say that I remember the last time I read a sandwich poem. Here are a couple so you won't feel deprived as I do. Come get your sandwich - poem that is.
Here's a page for Recommended products, websites, blogs, and/or fun stuff - all related to sandwiches. So check it out and let us know what you think.
A list of Sandwich Cookbooks we've found in our new search for the perfect book about sandwiches.
The Sandwich Gallery is a place to find pictures of your favorite food - Sandwiches! And if you'd like to add your own, you are welcome to do that as well. Enjoy.....!
The Sandwich Glossary is the place to find out about all things
Welcome to Pic-a-Sandwich-Poll! We're adding all of our polls in one place so they're easy to find. They'll open in a new window so you can easily come back and take another if you choose. Have fun!!!
What's the Most Popular Sandwich in the world? I've always wondered which sandwiches do people enjoy the most? What are the favorites? Come take the poll. It'll be fun to see which one wins...
The Sandwich Quiz. This is the same quiz on our Home Page, but here you can add your answers and find out what others have answered to the same questions. So go ahead, take the quiz, join in the fun
Here's the Sandwich Video of the Week! You will find a new video every week or two, so check back to see what it is. If you have a video you want us to feature - come add one!
Here are some sandwich videos we're sure you'll have fun watching.
Here's a short survey so that we can see how we're doing. If you have feedback or any suggestions you'd like to leave for us, you can do it here.
Want to find out about us? Well here's where you can read our story.
Would you like to conact us? If you have a question or concern about Sandwiches Again?, don't hesitate to contact us. Use the form below to send us your question or comment.
Frequently Asked Questions for Sandwiches Again? You will find answers to your most asked questions here.
The Sandwiches Again Search Results page...
A Site Map for Sandwiches Again? Here you can find everything on this site easily and quickly.
Disclaimer for Sandwiches-Again.com.
Privacy Policy for Sandwiches-Again.com
Advertising Policy for Sandwiches Again?