1000 Silly Sandwiches
by Alan Benjamin
This fun sandwich book - 1000 Silly Sandwiches - will probably be one that you and your little one's will love. It's a Mix and Match book with endless (well maybe not endless), possibilities. I'm sure you'll reach for this book over and over again as one of your favorites.

It's a spiral-bound book with an easel stand so it will stand up on it's own. This makes it easy for your kids (and you) to create "1,000 of the funniest, yuckiest hero sandwiches ever". Each full color page is divided into three sections. Your little ones will spend hours coming up with all kinds of sandwiches.
The perfect book for those long summer days when there's nothing else to do indoors and it's raining outside. Grab this book for hours of laughter.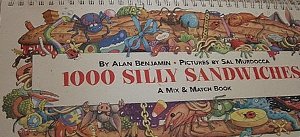 A quick word. This page may contain affiliate links. 
Dear Friends,

"Sandwiches Again? is a participant in the Amazon Services LLC Associates Program, an affiliate advertising program designed to provide a means for sites to earn advertising fees by advertising and linking to Amazon.com."

We'd also like you to know it doesn't cost you anything when you click through the links here on our blog. Not one single penny. And we will make a little extra cash when you do click through. We'll be ever so appreciative. You also have our word that we'll only link to things that we would use ourselves, (or wish we could have).
This is the perfect book for taking on a long trip to keep the kids busy. It's great for those rainy days and any other day when boredom sets in and imagination needs a jump start. Who knows you may even reach for 1000 Silly Sandwiches when the kids are at school. (They'll never know - and we certainly won't tell them).
And you never know, it may help you come up with a real sandwich idea that may sound yuckie, but actually taste really good. Maybe you'll even brave enough to try a few of them. I suppose it will depend on how adventurous you are.
Hmmm..., that sounds like a good idea....
Why not use the form below to share some of those "yuckie" sandwiches with us that turned out to be really "yummy"!
And here are the details so that you can look up your own copy at the library. Or use the link above and to the right to purchase one for your kids. They (and you) will be glad you did!
Details:
1000 Silly Sandwiches by Alan Benjamin
Pub. Date: March 1995
Publisher: Simon & Schuster Children's Publishing
Format: Hardcover, 9pp
ISBN-13: 9780671898304
ISBN: 0671898302
Have You Read This Book? Review it for Our Visitors!
Have you read the book? Well our visitors would love to hear about it. Write a review. What did you think about the book? Was it worth buying? Would you recommend it to others? Would you give it as a gift? How were the illustrations? What did you like (or not like) about the book?

Whatever you have to say, we'd like to read it.
Go from 1000 Silly Sandwiches back to Fun Sandwich Books
to find more great books for kids (and their parents).