Breads
Answer
:
Breads.
Question
:
What is the main ingredient in a sandwich?
Preferably fresh baked and warm from the oven. But if that's not possible, there are at least a number of loaves to choose from.
Of course if you are in a pinch, head to the nearest grocery store and grab a loaf off the shelf. Whether it's whole wheat, french, ciabatta, kaiser or hoagie rolls, most can be found on the regular shelves of any grocery.
If you want something a little more special, try the deli. You will probably be able to find the same choices above plus a few specialty loaves. Like Sourdough, Tomato Basil and Asiago Cheese – yum!
And your choice of artisan style baked goods will most likely include stone milled or whole grain, poppy or sesame seed, country white or wheat, well I'm sure your mouth is watering by now....mine is.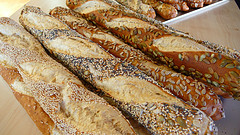 Another place to get great loaves for your special sandwiches, is to try the selection at Panera Bread, a popular bakery-cafe. They have their version of the types above, plus some that I haven't even heard of but would love to try. (Click here for their Sourdough recipe).
If you are really adventurous and want the whole experience of sandwich making, why not make your own? There are few things more satisfying than a freshly baked steaming loaf that you just took out of the oven – double yum!
The choice is yours of course. Get out the flour, those baking pans and roll up your sleeves. Or grab your keys and head to the local bakery or grocery deli. Depending on the amount of time you have and the type of sandwich you want, you are in for a treat.


Go from Breads back to the Home Page

Go to the Sandwiches Again? Blog






Recipe Index|About Us|Contact Us|Survey
Disclaimer|Privacy Policy|Site Map|FAQs|Advertising Policy|