Sandwich Maker
Do you own a sandwich maker? If not, you may own one of the following – which is basically the same thing – but by a different name. And each with a slightly different purpose.
Sandwich toaster
Sandwich grill
Sandwich press
Toastie maker
Toasted sandwich maker
Panini grill
Panini press
Pie iron
Pudgy pie iron
Jaffle iron
Traditional makers were made from cast iron and you would cook your sandwiches over coal or an open fire. (Perfect for campers!) Now most sandwich grills are made from aluminum and are usually coated with a non-stick surface. And most are electric.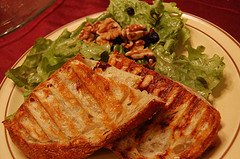 The machines are made to cook sandwiches, obviously. These sandwiches usually consist of two halves stuffed with some type of filling, toasted, and sealed around the edges. A sandwich grill or panini grill or press, doesn't seal the edges, but uses weight to press and grill the sandwich on both sides.
Grills and presses are most likely to cost a little more than a sandwich toaster or maker. You can probably tell why when you order a "Gourmet Panini Sandwich" at your favorite restaurant as opposed to a "Toasted Sandwich".
So if you're shopping for a machine to make those cute, stuffed sandwiches and money is an issue – go for one of the many sandwich makers on the market. If you are an at home "aspiring chef", then by all means splurge on a panini press or grill. You'll be able to impress all your friends at your next get together.
Now that you've just brought your new sandwich grill, press, maker, or iron home and pulled it out of the box, what are you going to make? If you've already tried every recipe included in the little owners manual, where do you go from here?
Have you tried making versions of your favorite sandwiches on it? Or maybe you bought a book especially to go along with your particular machine. Eventually there will come a time when you run out of ideas. If you're creative and like to experiment, then perfect!
Try different breads and different fillings to see what you come up with. If you have a short memory, it's probably best to write down your experiments and rate them. Especially if something didn't work out too well.
If nothing more you'll have a personalized cookbook of sorts. One you'll no doubt return to over and over for ideas. Who knows, it may be the makings of the next sandwich maker cookbook. You may be headed for fame after all!
Looking for sandwich maker recipes? Click here.

Go back to the Home Page

Go to the Sandwiches Again? Blog






Recipe Index|About Us|Contact Us|Survey
Disclaimer|Privacy Policy|Site Map|FAQs|Advertising Policy|