Picnic Sandwiches
Picnic Sandwiches are any kind of sandwich that's easy to pack, easy to eat, and easy to clean up after. Oh, and of course it has to be delicious – I think that goes without saying. With warm weather, there are a few other things you should keep in mind.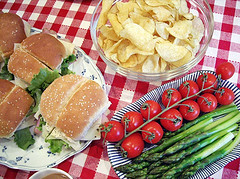 If you're going to use mayonnaise in any of your sandwiches, be sure and have plenty of ice packs on hand. And eat them as soon as you take them out of the picnic basket or cooler. The best way to solve this problem, however, is to substitute something in place of the mayo.
Try mustard. You could try brown, honey, or spicy, to name a few. Try butter or cranberry sauce. Hummus would also work, or even a nut spread would work, depending on the sandwich. Any spread that doesn't contain eggs should work just fine.
If you're going to have meat, like cold cuts, in your sandwiches, keep them in the cooler or basket with plenty of ice till serving time. The same applies to sides like salads that contain normally contain eggs or mayo. Keep them on ice.
Try sides like cheese cubes, veggie sticks, cherry tomatoes, and all kinds of fruit cut into bite-sized pieces. Chips, pretzels, and tortilla chips with salsa rounds out a meal. For drinks, try those individual drink boxes. Freeze them first. By the time everyone's ready to eat, the drinks will be thawed out and ready to drink.
So what kind of sandwiches will you take for your picnic? Here are a few we think would be perfect.
Well, if you start now, you can be ready in time for a quick picnic lunch, or dinner. Or maybe you'll have to wait until tomorrow. Just remember, any day is a great day for a picnic, even if it's on a blanket spread out on the living room floor! So try one of our picnic sandwiches, or share one of yours.


What is Your Best Picnic Sandwich Recipe?
Do you have a favorite Picnic Sandwich Recipe? One that you turn to again and again? Are your friends always asking for the recipe? Why not share it here?

Go ahead and share it with us. You can also tell us all about your picnic if you like. Be as descriptive as you can. Give us all the details of what made your Picnic special.

Your idea may be just the one someone is looking for. And if you have more than one favorite, come back and add more!
Go from Picnic Sandwiches back to the Sandwiches Again? Blog

Go to the Home Page






Recipe Index|About Us|Contact Us|Survey
Disclaimer|Privacy Policy|Site Map|FAQs|Advertising Policy|