Inside-Out Sandwiches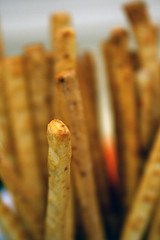 Inside-Out Sandwiches
4 very thin slices lean ham (such as Black Forest)
4 very thin slices lean roast beef
4 very thin slices Swiss cheese
12 short, thick, sesame seed breadsticks


1. Lay out slices of ham, roast beef, and Swiss cheese
2. Place a breadstick at the end of each slice and roll up.
3. To go: wrap each stick tightly in foil.
Makes 12 sandwiches.


(Found on p 222 of Mommy Made *and Daddy Too! by Martha and David Kimmel with Suzanne Goldenson).
Now these sandwiches are simple and easy to make. And they are nice for the little ones because there's nothing to fall out, so they're easy to eat. They travel well, too – so make up a few and pack them for your next outing!
The book – Mommy Made *and Daddy too! suggests serving them with your child's favorite dip – Horseradish Sauce, Summer or Winter Pesto, or My First Salad Dressing – which they also give the recipes for.



Go from Inside-Out Sandwiches back to Kids Sandwiches

Go to the Sandwiches Again? Blog

Go to the Home Page






Recipe Index|About Us|Contact Us|Survey
Disclaimer|Privacy Policy|Site Map|FAQs|Advertising Policy|