Peanut Butter and Jelly Sandwich
I only know of one person in my life who doesn't like a good peanut butter and jelly sandwich. If you are one of those people, that makes two. And his reasons for not liking it, I won't even mention here – you don't really need to know....

What is peanut butter? If you read the label, the main ingredient is peanuts. Or at least it should be, depending on the brand you buy. The brand I buy when I don't make my own has just peanuts and honey as the ingredients.


My favorite "brand", though, is homemade. We have a Vita-mix, so I get a jar of dry roasted peanuts, pour them in and add about a 1/8 cup of olive oil, turn it on and 1 minute later – voila! Warm creamy peanut butter! No preservatives or any of those baddies that caused the recent recall.

The peanut butter sandwich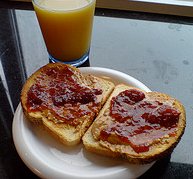 Now for the sandwich. I think the best bread for a peanut butter and jelly sandwich is whole wheat (it's sturdier and a healthier choice) or rustic french. The last one we found at a local farmers market and it is so good – crusty on the outside and soft and chewy on the inside.

Cut a couple of slices and spread with warm, freshly made peanut butter and your favorite jelly or jam and you have the best sandwich in the world – well maybe not the world – but at the moment. Either add a cup of ice cold milk or orange juice and you have the perfect snack.

History of the PB&J

Historians who study the origins of food, have no written record of the peanut butter and jelly sandwich until after 1940's. Some say the origin, or probably more accurately, the popularization on a large scale, of this sandwich was during WW2. The GI's were given rations of both peanut butter and jelly.

When they came home, jelly and peanut butter sales went up dramatically. That sounds about right to me. Just the peanut butter sandwich became popular with the younger crowd when Wonder bread was invented in the in the late 1920s. Gustav Papendick invented the process for slicing and wrapping bread.

Children no longer needed to try and use a knife or ask Mom to slice the bread for them. They could now do it themselves – safely. Also the fact that sugar was added to peanut butter, made it even more appealing to children.

Peanut butter, as well as PB&J, sandwiches became a staple for children during the depression. The price was right. They were highly nutritious. They were easy to make. The perfect sandwich for kids. And when jams and jellies were added to the mix, Mom's had it made.

So how do you make a PB&J? If you want to learn how to make the perfect PB&J Sandwich, click here.

And did you know you could save the planet by eating peanut butter and jelly sandwiches? Click here to find out how.


What's Your Best PB&J Sandwich Recipe?
What's your Best PB&J Sandwich Recipe? You share it. Our visitors will try it. We'll rate it to see who's recipe is best!

Go ahead and wow us. The best will rise to the top!
Go from Peanut Butter and Jelly Sandwiches back to Dessert Sandwiches

Go from Peanut Butter and Jelly Sandwich back to the Home Page






Recipe Index|About Us|Contact Us|Survey
Disclaimer|Privacy Policy|Site Map|FAQs|Advertising Policy|