Vegan Sandwiches
Vegan Sandwiches are so much more healthy than the processed meat options available. If your sandwich meat is processed or made from the leftover bits and pieces after an animal is butchered, then it's most likely not the best choice for your lunch.
We're not here to tell you what to eat, so if you want a burger or a tuna fish sandwich, have at it. If you're looking for vegan alternatives, here is a list of our favorites.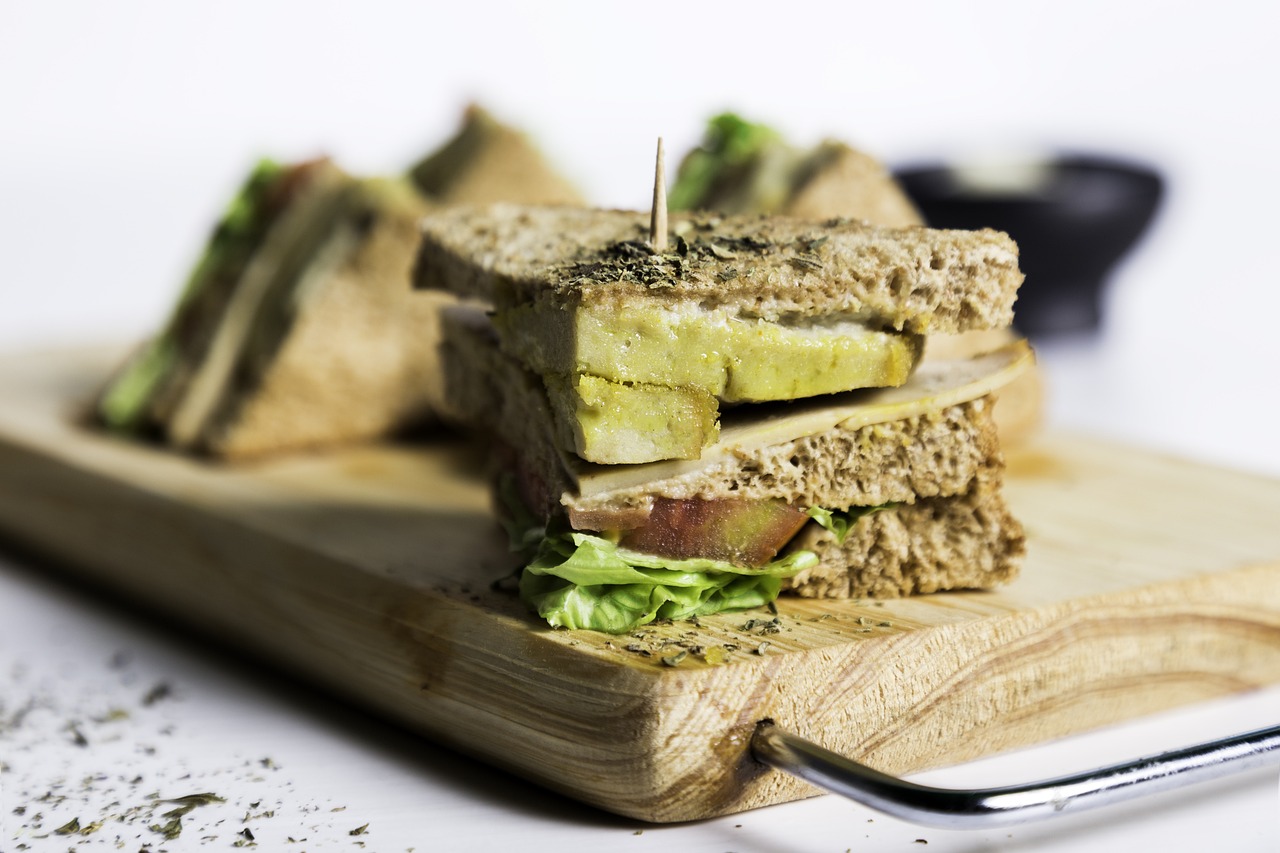 We love making up plant-based sandwiches. Basically anything sturdy enough to hold up between two slices of bread will work. If you want to remake your favorite sandwiches like tuno or tofu salad, or chik'n, or sloppy lentils, or lentil loaf, then you might need a recipe if you're like me.
Below is a list of recipes you might like to try. Some we've made and a few we have on our list must try recipes.
Vegan Sandwiches You Can Try
Tofu Salad Sandwich
Chickpea Salad Sandwich
Tuno Sandwiches
Sloppy BarBQ Lentil Sandwiches
Chk'n Sandwich
Lentil Loaf Sandwich
Black Bean Burger
Veggie Bean Burrito 
Seitan Bologna Sandwich
Seitan Salami Sandwich
Vegan BLT Sandwich
Vegan Sausage Sandwich
BarBQ Bean Wrap
Pulled BarBQ Jackfruit Sandwich
These are only a few of the possibilities you can try. There are a multitude of Vegan Cookbooks you can check out at the library, download on your Kindle, or purchase. The following is a brief explanation of each one - not necessarily a recipe with exact measurements. 
The easiest way to do it is to use your own recipe for the traditional sandwich and just substitute the meat of fish for whatever recipe you're trying.
Tofu Salad Sandwich

A tofu salad sandwich is our take on an egg salad sandwich. There are two ways to make it. The first, and our favorite, is to make a tofu scramble like you would make as a scrambled egg substitute. Once that's done, you add traditional egg salad seasonings like mustard, onion powder or minced onion, garlic powder, a little vegan mayonnaise and mustard.
Sometimes I add chopped cucumber or pickle, however this is optional. If you just want a simple tofu salad sandwich, leave out all the extras. Spread your salad on toast, a bagel, sourdough bread, or whatever you have on hand. Serve with dill pickles, microwave or air fryer potato chips, and if you're extra hungry, a small bowl of tomato soup.
Tuno Sandwiches
A tuno sandwich is the vegan version of a tuna sandwich if you didn't figure that out. You can substitute chickpeas, Northern or cannellini beans, for the tuna. I add pickles or pickle relish, mustard, vegan mayonnaise, parsley - basically whatever you add to your traditional tuna salad recipe.
You roughly mash your beans then add your seasonings, the mayonnaise, mustard, and pickles. Spread your tuno onto your favorite vegan bread or bun, along with lettuce, tomatoes, vegan bacon, and vegan cheese, if you'd like a tuno melt. Enjoy!!
Chickpea Salad Sandwiches
Chickpea Salad Sandwiches are the same as tuno sandwiches. Or you can change up the seasonings a bit to create a totally different version based on your specific taste.
Sloppy BarBQ Lentil Sandwiches

One of my favorite sandwiches as a child was sloppy joes. Since changing to a plant-based lifestyle, I've made this several times. Cook a small pot of lentils or used canned, which you've drained and rinsed. Set aside and add a small amount of water to a non-stick pan on medium heat.
Add minced garlic, chopped onions and bell peppers to the pan and sauté till tender and onions are translucent. You may need to add extra water to the pan while cooking them.
Add a little onion powder, garlic powder, black pepper, chili powder, along with a cup of your favorite barbeque sauce (or make your own, which is what I do), Stir together and let simmer for at least 15 min to allow flavors to meld. I also like to add chopped pickles or pickle relish. Cook till most of the water has evaporated and the mixture has thickened.
Toast your bread or buns, this seems to help keep the sloppy joes from making the bread too soggy. When you are ready to eat, add a generous helping to one slice of bread or bun. Garnish with sliced pickles or whatever else you like on your sloppy joes, serve with chips, air fryer fries and enjoy!!  
Chik'n Sandwich
There are several options for this sandwich. There are a few vegan chik'n products out there, and you can easily try one of those. However, there are a few options you can make on your own. One easy one is to freeze a block of tofu still in the package. Thaw it out and you can either refreeze it again or use it after the first freeze and thaw. This gives a more meaty texture to the tofu.
Once thawed and drained, slice the tofu into half inch slices. You can do this from the short end for smaller pieces or the long end for longer pieces. Season the slices with Not Chicken bullion powder or poultry seasoning. If you'd like a crunchier patty, dip slices in plant milk and then in seasoned bread crumbs or something like crushed corn flakes.
You can pan fry them in a small amount of oil or add them to your air fryer to crisp them up if you want to keep them oil-free. Enjoy your chik'n sandwich on toasted buns with your favorite toppings.
Lentil Loaf Sandwich

A lentil loaf sandwich is a take on the old favorite meatloaf sandwich. There are many vegan loaf recipes out there, lentil as well as chickpea loaf, black bean loaf, and more. We usually have a bag of lentils in the pantry and they cook up fairly quickly, so it's pretty quick to mix up a loaf recipe for dinner and then use the leftovers for sandwiches the next day.
Treat the lentil loaf as you would a traditional meatloaf. I usually opt to reheat a few slices in the air fryer because it keeps the slices firmer with a slight crispiness to the edges. So yummy! Spread on a bit of vegan cheese sauce, top with your favorite condiments, and you've got a delicious sandwich.
Veggie Bean Burrito
A veggie bean burrito is pretty straight forward. I just leave out the meat and add roasted veggies, like broccoli, zucchini, carrots, onions, and garlic to a flour or cornmeal wrap. You can add rice if you like and oil-free refried beans, and salsa, as well. Spread on a little vegan cheese sauce, vegan sour cream, and wrap it all up for a filling sandwich wrap.
Seitan Bologna Sandwich

Seitan is bound to be one of those meat substitutes you eventually hear about if you are vegan. It can be very involved or pretty simple depending on the recipe you find. I've found a few pretty simple seitan sandwich "meat" slice recipes, from vegan bologna, salami, turkey, ham, and more. 
You basically vary the broths and seasonings when you make your seitan to give them the specific taste you want. Once done, you can slice them to make sandwiches or cube them for other recipes like casseroles or pasta salads. I'll add a few recipes of the more simpler versions soon.
Vegan BLT Sandwich

How can you make a BLT without the addition of beloved bacon. Well, believe it or not, vegan and plant-based eaters have been experimenting with this one for years. There are several ways to make plant-based vegan bacon.
One uses thinly sliced tempeh, another sliced and marinated carrots, still another uses cut rice paper strips as the base, and there's a sliced portabella mushroom version. Whatever the base, there is usually a marinade which is made up of ingredients that have a similar taste to bacon once it's cooked.
The idea is to marinate your tempeh, carrot slices, mushrooms, for several hours, or simply dip the rice paper strips, and then bake them in the oven until crispy like bacon. Each one has a slightly different taste and texture, however, they're all passable as a bacon substitute.
Add vegan mayo, lettuce, tomato slices to your toasted bread or bun and top it off with a few slices of vegan bacon and you've got yourself a VBLT ::wink wink::  Try them all to see which one you like the best!
Vegan Sausage Sandwich

Vegan sausage can be made in a similar way as you make seitan. There are several recipes floating around, and again some are more simpler than others. I tried making vegan hotdogs once and wasn't impressed with my results. The recipe most likely was too simplified and it caused them to be too dry. 
I have found one that I think would yield a much better "sausage" that would make a great sandwich. I can see it now topped with sliced, barbequed onions. You can also add sliced green and red peppers. A little mustard and you will have a delicious vegan sandwich.
Pulled BarBQ Jackfruit Sandwich


Jackfruit is another great meat substitute. For this version, you need to get either fresh green jackfruit or canned in brine so that it's not sweet. We've enjoyed this sandwich several times and it has been delicious. The texture is very much like pulled pork and once seasoned and simmered in your favorite vegan barbeque sauce, I'm sure many of you will like this sandwich as well.
I do find that actually cooking it for a bit first before adding the barbeque sauce yields a more tender result, which we like.
Vegan Sandwiches are a Comfort Food
I would say that vegan sandwiches are definitely a comfort food in my book. I love, love, love, sandwiches and would eat them everyday if I could. Many times I will just eat a peanut butter and jelly sandwich as a snack or for dessert, because it's a comfort to me. 
Now that we've adopted a plant-based lifestyle, I've looked for more ways to incorporate veggies as sandwich ingredients. The variety of edible plants is almost limitless, so trying new things is as simple as visiting the produce section and picking out something you've never eaten before. 
Look it up on Google or YouTube to see how to store, prepare, and serve it. Who knows, you might find a new favorite vegetable or fruit. So many feel that being vegan or plant-based means you're limited to just eating salad. That can't be further from the truth. There are so many plant foods out there and it's very easy to eat the rainbow, even in a sandwich!
More Vegan Sandwiches
Here's a great site that has a fun list of vegan sandwiches. Hurry the Food Up has a list of 31 sandwiches you might like to try. (Link will open in a new window). Also, below, you will find a video of two more crispy whole food plant-based sandwiches you might like as well.
/center>
A quick word. This page may contain affiliate links. 
Dear Friends,

"Sandwiches Again? is a participant in the Amazon Services LLC Associates Program, an affiliate advertising program designed to provide a means for sites to earn advertising fees by advertising and linking to Amazon.com."

We'd also like you to know it doesn't cost you anything when you click through the links here on our blog. Not one single penny. And we will make a little extra cash when you do click through. We'll be ever so appreciative. You also have our word that we'll only link to things that we would use ourselves, (or wish we could have).