Soups


Which are your favorite soups served with sandwiches? If you've eaten tomato soup and grilled cheese sandwiches before, then you're not alone. That was a favorite meal in our house when I was growing up.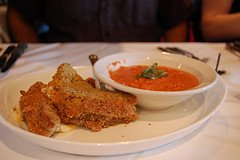 I'm sure it was a favorite with my mom because it was easy and quick to prepare. And as we got older, we kids could do the preparing. Back then it was a can of tomato soup and a slice or two of American cheese between two slices of buttered bread, which were toasted on a pan in the oven or flipped in a stove top frying pan.
Either way, the meal was satisfying and delicious. No complaints here. What other kinds of soup did you have with your favorite sandwiches? Well, here's a short list of some of ours. And we'd love it if you shared your favorite combos with us.
tomato
vegetable
chicken noodle
lentil
potato
14 bean
wedding
This is a very short list of the kinds of soup that go well with sandwiches. We look forward to finding out your favorites as well.

Go from Soups back to the Home Page

Go to the Sandwiches Again? Blog






Recipe Index|About Us|Contact Us|Survey
Disclaimer|Privacy Policy|Site Map|FAQs|Advertising Policy|