Salads


Salads and Sandwiches sound like the perfect combination during the warmer months. What do you think? When soups are just too hot to serve, but you still want to serve more than just a sandwich, they're the perfect accompaniment.
Fresh spring greens, tomatoes, sliced red onions, grated carrots, and English cucumbers, make a healthy and easy addition to your meal that's colorful and delicious. Add your favorite turkey sandwich on whole wheat bread and you have a refreshing lunch or dinner.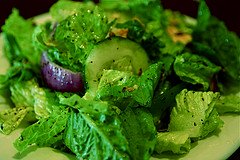 Or why not mix up a bowl of cool jello and fruit cocktail to serve with those fried bologna sandwiches? And add a cool strawberry smoothie to finish it off. Here are a few of our favorite recipes.
potato
macaroni
pasta
jello
broccoli
spinach
bean
tomato and cucumber
waldorf
MYO (make-your-own)
These are just a few of our favorites. Try one, or try them all. And of course, add your sandwich of the day and you've got the perfect summer meal.

Go from Salads back to the Home Page

Go to the Sandwiches Again? Blog






Recipe Index|About Us|Contact Us|Survey
Disclaimer|Privacy Policy|Site Map|FAQs|Advertising Policy|