Tea Sandwiches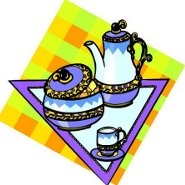 An Afternoon Tea


Dainty little tea sandwiches
On a sunny afternoon
Served with delicate tea
In pretty china teacups
Buttery shortbread cookies
Ladies dressed in soft
Flowing dresses and flowery hats
Perched on the edge their seats
Complimenting the host on her recipes

Well, that was the traditional afternoon tea, and still is for those who love the nostalgia of long ago. And that's fine. But if you're a modern girl or guy, you will probably want to experiment with new recipes and ideas for tea parties.
If you plan a traditional party, then choose cucumber, watercress, or a spread like pimento cheese for your sandwiches. Hummus is another spread possibility, one that has become more popular these days.


The idea is to serve dainty, finger sandwiches. They are not meant to be filling and you shouldn't have to work at them. A few tiny bites and you're done and ready for dessert – a few shortbread cookies or pecan sandies, maybe. A sip of tea and don't forget the pinkie pose!
Loaf sandwiches are another sandwich that's perfect for an afternoon tea. This is a sandwich made in the shape of a loaf, then sliced to serve.
Breads usually have the crusts cut off, remember we don't want to work at eating these little sandwiches. Choose country white, whole wheat, rye, pumpernickel or raisin bread.
A modern version of the tea sandwich would be those mini pocket pitas or mini croissants filled with your favorite hummus or salad sandwich recipe. Served with cucumber chips, raspberry herbal iced tea, and brownie bites and you have the perfect modern tea party.
Here are is a list of some traditional and non-traditional recipes for your afternoon tea.
pimento cheese sandwiches
loaf sandwiches
cream cheese sandwiches
nut butter sandwiches
radish sandwiches
hummus sandwiches
finger sandwiches
I'm sure you can come up with several more sandwiches to add to this short list. And we'll have more to add soon. If you have any suggestions, contact us here so we can add it to the list.
Afternoon Teas, Please/a> offers all the information you need for planning the perfect tea party, so check them out as well! (Link opens a new window.)
Want to see a video for a making cucumber sandwiches? Click here. You'll find it in two parts. Perfect for your next tea party!
Here's a video for Curried Chicken Tea Sandwiches - looks good. What do you think?
Here's a California Tea Sandwich video complete with avocados and sprouts.
And here's one for Waldorf Chicken Salad Sandwiches. This one looks delicious!
What's Your Best Tea Sandwich Recipe?
Do you have a favorite Tea Sandwich Recipe? Is it your Best? Are your friends always asking for the recipe? Why not share it? Our visitors will try it. We'll all rate it to see who's recipe is best!

Go ahead and share it with us. You can also tell us about your tea party if you like. Be as descriptive as you can.

Your idea may be the one someone is looking for. The best recipes and suggestions will rise to the top!
Go from Tea Sandwiches back to the Home Page

Go from Tea Sandwiches to The Sandwiches Again? Blog






Recipe Index|About Us|Contact Us|Survey
Disclaimer|Privacy Policy|Site Map|FAQs|Advertising Policy|