Salad Sandwiches
When I think of salad sandwiches, I generally head on over to my old favorites. Tuna salad, chicken salad, or egg salad are quick, easy and comforting. Well after looking up recipes, it seems there are several more creative additions in this category.
Besides the traditional salad type sandwiches mentioned above, why not try seafood salad, salmon salad, chick pea, cheese, or tofu salad? And if you're feeling really adventurous, (or maybe not), just stuff your lettuce and tomato salad between to slices of bread or in a pita pocket and pour on the dressing.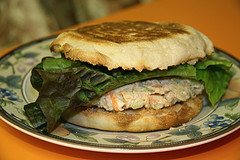 Salad fillings, to me, are more like a chunky spread. The chunkier the better. Along with the main ingredient, tuna, chicken, egg, or chick peas, you add your choice of onion, green peppers, pickles or relish, celery, or carrots, to name a few. You can even add fruit, like chopped apples, sliced grapes, or pineapple tidbits.
Your choice of breads can be anything from a kaiser roll, a bagel, a croissant, or just plain whole wheat bread. I think softer breads are better for these types of sandwiches, but that's just my preference. You can also lightly toast your bread, if you like.
Here are some of our old favorites, along with some new found recipes.
seafood salad
tofu salad
chickpea salad
cheese salad
turkey salad
deviled ham salad
salmon salad
salad salad
If you have a Salad Sandwich recipe you'd like to add, use the form below. We love finding out new and interesting sandwich ideas.
Want to see a video for yummy chicken salad finger sandwiches? Click here.


What's Your Best Salad Sandwich Recipe?
What's your Best Salad Sandwich Recipe? You share it. Our visitors will try it. We'll rate it to see who's recipe is best!

Go ahead and wow us. The best will rise to the top!
Go from Salad Sandwiches back to the Home Page

Go to the Sandwiches Again? Blog

Would you like to take the Sandwich Quiz? Click here.






Recipe Index|About Us|Contact Us|Survey
Disclaimer|Privacy Policy|Site Map|FAQs|Advertising Policy|