Sandwich Cookbooks
Here's a list of some of the sandwich cookbooks we've found recently. When we started this website, we'd never even thought about looking for a cookbook that was just about sandwiches. We pretty much made up our own sandwiches based on the ingredients we had at the time.




Our first search came up with one of our favorite people. Tom Colicchio from the show Top Chef! He actually has a restaurant called 'wichcraft. His cookbook by the same name shares the shops' recipes for their most popular sandwiches. How cool!
This is just one of our favorite cookbooks. We'll add more as we find them. And if you have a cookbook you'd like to add to our list, fill in the form below and we'll add it to our contributors list.



Cookbook List
200 Best Panini Recipes by Tiffany Collins
400 Best Sandwich Recipes: From Classics and Burgers to Wraps and Condiments by Alison Lewis
American Sandwich by Becky Mercuri
Angeli Caffe Pizza Pasta Panini by Evan Kleiman
The Art of the Sandwich by Jay Harlow
Beautiful Breads and Fabulous Fillings: The Best Sandwiches in America by Margaux Sky
Caprial's Soups and Sandwiches by Caprial Pence
Cool Sandwich Food Art: Easy Recipes That Make Food Fun to Eat! by Nancy Tuminelly
Great Grilled Cheese: 50 Innovative Recipes for Stove Top, Grill, and Sandwich Maker by Laura Werlin, Maren Caruso
Great Sandwiches (Cook's Essentials) by Valerie Ferguson
Grilled Cheese: 50 Recipes to Make You Melt by Marlena Spieler
Grilled Cheese, Please!: 50 Scrumptiously Cheesy Recipes by Laura Werlin
My Rustic Sandwiches: Great Recipes to Savor Artisan Bread by Sam Sidawi
Nancy Silverton's Sandwich Book: The Best Sandwiches Ever--from Thursday Nights at Campanile by Nancy Silverton with Teri Gelber
Panini, Bruschetta, Crostini: Sandwiches, Italian Style by Viana La Place
Panini Express - 70 Delicious Recipes, Hot off the PressDaniel Leader & Lauren Chattman
Roadfood Sandwiches by Jane & Micheal Stern
Sandwich by Israel Aharoni, Ann Kleinberg, Nelli Sheffer
Sandwiches (Quick & Easy Series) by Xenia Burgtorf
Sandwiches of the World by Alan Battman Batt
Sandwiches, Panini, and Wraps: Recipes for the Original Anytime and Anywhere Meal by Dwayne Ridgaway
Simple Italian Sandwiches: Recipes from America's Favorite Panini Bar by Jennifer and Jason Denton with Kathryn Kellinger
Super Sandwiches: Wrap 'em, Stack 'em, Stuff 'em by Rose Dunnington
Tastefully Small Finger Sandwiches: Easy Party Sandwiches for All Occasions by Kim Hendrickson
The Big New York Sandwich Book: 99 Delicious Creations from the City's Greatest Restaurants and Chefs by Sara Reistad-Long and Jean Tang
The Encyclopedia of Sandwiches by Susan Russo and Matt Armendariz
The Ultimate Sandwich Book by Louis De Gouy, et al.
Vegetarian Sandwiches: Fresh Fillings for Slices, Pockets, Wraps, and Rolls by Paulette Mitchell
'wichcraft by Tom Colicchio with Sisha Ortuzar
Wrap It Up - 100 Fresh, Bold, and Bright Sandwiches with a Twist by Amy Cotler
Wraps: Easy Recipes for Handheld Meals by Sara Whiteford Corpening
These are only a few of our favorites. As we said before, we'll add more as we find them. We also have a page with books about sandwiches.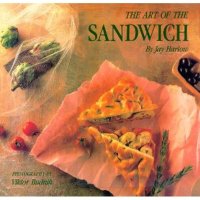 Most of these are fun books that aren't cookbooks. You'll find kids books and other books with sandwiches as a main ingredient - wink. Click here to find out more about them.
Fill in the form below to add your favorite cookbook to the list. And don't forget to check back to see what other visitors have added.


Do You Have A Sandwich Cookbook You Think is the Best?
Do you love collecting Sandwich Cookbooks? Or is that the only kind of book you check out at the library? Well why not add it here!

Your cookbook could be the one that someone else is looking for. You may have the one with the perfect sandwich.
Rate Other Visitors Sandwich Cookbooks Here
Click below to See and Rate other visitors Sandwich Cookbooks....
The BLT Cookbook: Our Favorite Sandwich

This book by Michele A. Jordan is about our favorite sandwich, the BLT. Who doesn't love bacon? And if you can imagine every possible combination of …
Go from Sandwich Cookbooks back to the Home Page

Go to the Sandwiches Again? Blog






Recipe Index|About Us|Contact Us|Survey
Disclaimer|Privacy Policy|Site Map|FAQs|Advertising Policy|