Kids Sandwich Cookbooks
Searching for Kids Sandwich Cookbooks? Well here's a list of some kid friendly cookbooks that I've found that may interest you. You'll find easy recipes that are just as fun to make as they are to eat! So grab your hungry  little ones, put on your aprons, wash your hands, and have some fun.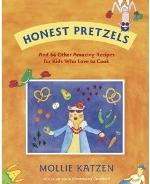 Fun Kids Sandwich Cookbooks
Grilled Pizza Sandwich and Other Vegetarian Recipes
by Kristi Johnson
There's only one sandwich recipe in this book - the one in the title, however, there are other vegetarian recipes for you to make. The recipes in this book include easy step-by-step instructions to guide you. Each recipe includes equipment lists, safety tips, and difficulty ratings.
Honest Pretzels : and 64 Other Amazing Recipes for Cooks Ages 8 & Up
by Mollie Katzen
According to one review this cookbook includes a grilled cheese and broccoli sandwich, which definitely sounds yummy. You'll have to find the book at the library or get a copy to see if there are more sandwiches. I'm sure there are lots of other great recipes as well.
Max's Sandwich Book: The Ultimate Guide to Creating Perfection Between Two Slices of Bread
by Max Halley
This isn't really a kids cookbook, however, it will be fun to share with your little chef. It's a guide to making the perfect lunch "for the sandwich lover in your life (even if it's you)." You'll find recipes for making sandwiches for breakfast, dinner, and dessert, all from Max, the owner of Max's Sandwich Shop in Crouch End, Britain's most amazing sandwich eatery.
The Sandwich Cookbook for Kids: The Fun and Easy Way to Make a Sandwich!: A Kids Cookbook that Benefits Children Around The World. Kindle Edition
by Kevin Bjorklund
This cookbook includes 7 easy sandwiches for kids to make: The Peanut Butter and Jelly, The Ham and Cheese, Pickle and Mayo, The Banana and Peanut Butter, The Tomato and Mayo, The Classic Grilled Cheese, and The Apples and Cheese Sandwich. Plus the money from every purchase of the book is given to charity and helps kids in Haiti, Thailand, and more.
Sandwiches!: More Than You've Ever Wanted to Know About Making and Eating America's Favorite Food
by Alison Deering, Bob Lentz
A fun frilled sandwich recipe book for kids. They are easy to assemble sandwiches for breakfast, lunch, dinner, and dessert. There are also vegetarian sandwiches as well as fun facts and sandwich related trivia.
Grilled Cheese Kitchen: Bread + Cheese + Everything in Between (Grilled Cheese Cookbooks, Sandwich Recipes, Creative Recipe Books, Gifts for Cooks) 
by Heidi Gibson, Nate Pollak
What could be more exciting than a cookbook with every version of grilled cheese that you can think of - try them with your kids. Here are a few examples - Green Eggs and Ham Grilled Cheese, Jalapeno Popper Grilled Cheese, Grilled Cheese Birthday Cake.
5 Minute Edible Crafts: A Family Cookbook for Kids (fun cookbooks for kids ages 4-9)
by Wolf Cub Chlo, Jenn Bell-Allen
Do you have an artist in the family? This book will allow them to be creative with their food, whether it's a sandwich or a snack. "From silly fruit snacks to sandwich art and more, this cookbook has everything you need to create fun and delicious edible projects in just 5 minutes or less."
A Few More Kids Sandwich Cookbooks
75 Kid-Friendly Sandwich Recipes: A Timeless Kid-Friendly Sandwich Cookbook Kindle Edition by Amanda Ross
Kid Chef Sandwich: Simple Recipes Secret Techniques For New Kids Chef In The Kitchen (First Cookbook for Kids) by Patricia Ola
Peanuts Lunch Bag Cookbook: 50+ Packable Snacks, Sandwiches, Tasty Treats & More (Peanuts Cookbooks) by Weldon Owen
The Complete Cookbook for Young Chefs: 100+ Recipes that You'll Love to Cook and Eat by America's Test Kitchen Kids
Sandwich Recipe Book For Kids: Blank Notebook Journal To Write In Your Own Creations, Kids Activity Workbook For Food by Simone Vanessa Morgan
The Star Wars Cookbook: Han Sandwiches and Other Galactic Snacks (Star Wars x Chronicle Books) by Lara Starr, Angie Cao
Kids' Special Cookbook: Recipes Straight from The Land of The Rising Sun by Ivy Hope
Lunchbox: So Easy, So Delicious, So Much Fun to Eat by Marnie Hanel (Author), Jen Stevenson
Hope you enjoyed the list and found a delicious sandwich recipe in the process. If you know of any kids cookbooks that have sandwich recipes that we don't have listed here, add them using the form below. You can also use the form to tell us what you liked about the cookbooks. If you want more Fun Sandwich Books, click here.
A quick word. This page may contain affiliate links. 
Dear Friends,

"Sandwiches Again? is a participant in the Amazon Services LLC Associates Program, an affiliate advertising program designed to provide a means for sites to earn advertising fees by advertising and linking to Amazon.com."

We'd also like you to know it doesn't cost you anything when you click through the links here on our blog. Not one single penny. And we will make a little extra cash when you do click through. We'll be ever so appreciative. You also have our word that we'll only link to things that we would use ourselves, (or wish we could have).