Dessert Sandwiches
What could be better than Dessert Sandwiches? Not every sandwich is a savory sandwich. These sweet sandwiches are great when you don't want to bake a cake or pie. They are quick and easy to make, whether you're making one for yourself or a few for your family.

Breads and fillings
I've always said, the best meal is anything that fits between two slices of bread. In this case the bread can be banana bread, pound cake, a bagel, a pita, a croissant, a waffle, or two cookies. The sky is the limit!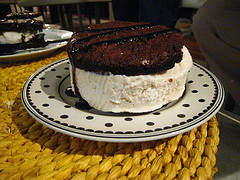 The fillings are also and endless possibility. From ice cream, to cream cheese and fruit, to chocolate and peanut butter. If you can imagine it and it tastes good, make it a sandwich.

One example
I had to write this page when I came across this recipe for Creamy Strawberry Sandwiches by Chef Meg in my Spark Recipe Newsletter today. It sounded so good, I am going to have to give it a try.
By the comments it received, it seems as though it's been around for awhile. Where have I been all these years? It calls for fresh strawberries, which are out of season now, but I can see where strawberry preserves would do just as well, (which thankfully I bought yesterday - goody!) Now all I need is the cream cheese and pita pockets and I'm good to go.
Chef Meg's
Creamy Strawberry
Sandwiches

3 T cream cheese, low fat, softened
1 c strawberries, sliced
1 whole wheat pita bread
1 sprig fresh mint
Cut pita bread in half. Gently open pocket. Combine cream cheese with 1/4 cup of the strawberries, mashing the berries as you mix. Spread half of mixture inside each half of the pita. Fill with remaining strawberries. Heat a cast iron pan or skillet to warm. Spray sandwich with nonstick spray and grill both sides until golden. Enjoy warm. Garnish with mint.

Number of Servings: 2

The sandwich list
Here's a list of sandwiches we've tried or want to try in the near future. If you have some you'd like us to add to our list, use the form below to add your best dessert sandwich recipes.
What's Your Best Dessert Sandwich Recipe?
What's your Best Dessert Sandwich Recipe? You share it. Our visitors will try it. We'll rate it to see who's recipe is best!

Go ahead and wow us. The best will rise to the top!
Best Dessert Sandwich Recipes from other Visitors
Click below to see Dessert Sandwich Recipes from other visitors to this page...

CAMPFIRE APPLE PIE SANDWICHES

Using a cast-iron or other metal campfire pie iron (available on internet) prepare the sandwiches: Butter two slices white bread. Put one slice in …
Go to the Sandwich Maker Dessert Recipes

Go from Dessert Sandwiches back to the Home Page

Go from Dessert Sandwiches to the Sandwiches Again? Blog






Recipe Index|About Us|Contact Us|Survey
Disclaimer|Privacy Policy|Site Map|FAQs|Advertising Policy|