Ice Cream Sandwiches
On a hot summer day, Ice Cream Sandwiches are sure to work perfectly to cool you down. I loved the ones with chocolate on the outside and vanilla ice cream on the inside when I was little. At the time, I thought nothing could be better.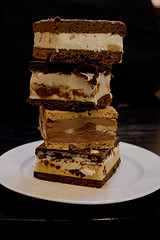 As I've grown older and my tastes are a little more refined, I realize that there are so many possibilities when it comes to these popular dessert sandwiches. From your cookie or cake choices, to your ice cream fillings, you could try a different one every day of the month.
One of my favorites is two slices of warm pound cake with French vanilla ice cream in between. And don't forget the chocolate chip (or double chocolate chip) cookies with chocolate ice cream sandwiched in the middle. Yum!!!
If you want a low-fat version, there are still ways to have this yummy dessert. So start experimenting, or tell us what you've already come up with when it comes to making ice cream cookie sandwiches. Go ahead, we'll wait. Add your favorite recipe to the form below. (Updating soon.) In the meanwhile, we'll add a few ideas to the list.
Chocolate Chip with Mint Ice Cream Cookie Sandwich
Triple Chocolate Ice Cream Cookie Sandwich
Chewy Oatmeal Ice Cream Cookie
Pound Cake with Strawberry Ice Cream
These are just a few ideas to get your imagination going when you make your next dessert sandwich. As I said, the possibilities are endless. Pick your favorite cookie or pound cake and your favorite ice cream and see what you come up with. We'd love to see it!


What's Your Best Ice Cream Sandwich Recipe?
What's your Best Ice Cream Sandwich Recipe? You share it. Our visitors will try it. We'll rate it to see who's recipe is best!

Go ahead and wow us. The best will rise to the top!
Best Ice Cream Sandwich Recipes from other Visitors
Click below to see Ice Cream Sandwich Recipes from other visitors to this page...

Gingerbread Ice Cream Sandwiches

Just found this recipe on the back of my bottle of Brer Rabbit Molasses and thought I'd share it. It looks good and I will have to try it for Thanksgiving …
Go from Ice Cream Sandwiches back to Dessert Sandwiches

Go to Sandwich Cookies

Go to the Sandwiches Again? Blog

Go to the Home Page






Recipe Index|About Us|Contact Us|Survey
Disclaimer|Privacy Policy|Site Map|FAQs|Advertising Policy|