Fun Sandwich Books
Hi kids! Here are some fun sandwich books or should I say fun books about sandwiches. We've added some books that even big people will love. So mom, dad, auntie, uncle, grandma, and grandpa, you're welcome to read them as well.Most of these we found while looking for
sandwich cookbooks. You can find them here
. They have actual recipes and tips for making great sandwiches.
This list of books has something to do with bread and fillings and such. So have fun going through the list. And if you've come across a fun book about sandwiches, fill in the form below, to share them with us.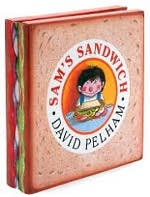 Sam's Sandwich by David Pelham
The Giant Jam Sandwich by John Vernon Lord with Janet Burroway
City Hall Sandwich by Annie Auerbach
The Curse of the Bologna Sandwich (Melvin Beederman, Superhero Series #1) by Greg Trine
Sandwich Bag Science: 25 Easy, Hands-on Activities That Teach key Concepts in Physical, Earth, and Life Sciences-and Meet the Science Standards by Steve Tomecek
Carla's Sandwich by Debbie Herman
Frankenstein Makes a Sandwich by Adam Rex
Clever Lunchbox Puzzles: fun Tear-Outs to Pack with Your Sandwiches by Steve Ryan
Smelly Feet Sandwich and Other Silly Poems by Allia Zobel Nolan
The Sandwich Swap by Queen Rania of Jordan Al Abdullah with Kelly Dipucchio
Honey Sandwich by Elizabeth Honey
The Curse of the Bologna Sandwich (Melvin Beederman Superhero) by Greg Trine
Super Sandwiches: Wrap 'em, Stack 'em, Stuff 'em by Rose Dunnington
Moon Sandwich Mom by Jennifer Richard Jacobson
Cat & Dog Make the Best, Biggest, Most Wonderful Cheese Sandwich (Fun & Fantasy Series by Kimberlee Graves
Another Dirt Sandwich: Some Rambling and Hilarious Exploits of Tbyrd Fearlessness by Ray Friesen
Mystery at the Club Sandwich by Doug Cushman
1000 Silly Sandwiches by Alan Benjamin
Hamster and Cheese by Colleen AF Venable
Monsters eat whiny children Bruce Eric Kaplan
May'naise sandwiches & sunshine tea by Sandra Belton
Let's make a sandwich by Mary Hill
A Yummy lunch by Mercer Mayer
Piggy and Dad David Martin
Paddington's storybook Michael Bond
The Perils of the Peanut Butter Kid by Cynthia Kagan Frohlichstein
Hope you enjoy these fun books and hope you'll add your favorite books below. We can't wait to see the books you've found. And kids, if you are under 18, be sure and ask your parents to help you add your favorite book.
Now that you've read our list, what books about sandwiches have you come across? Share them with us by adding them to the form below.




Have You Read A Fun Sandwich Book Lately?
Have you read a Fun Sandwich Book lately? Share it with us! It can be a children's book or a teen/young adult book. Whatever it is, we'd like to read it.
Go from Fun Sandwich Books back to the Home Page

Go to the Sandwiches Again? Blog






Recipe Index|About Us|Contact Us|Survey
Disclaimer|Privacy Policy|Site Map|FAQs|Advertising Policy|