Sam's Sandwich
by David Pelham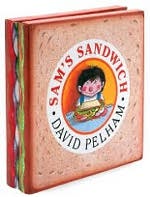 When I first saw this book, Sam's Sandwich, I thought it was the cutest thing. I'm sure your little one will get a kick out of the format. Fold out pages show what Sam adds to his sister Samantha's sandwich to make it more (or should we say less) appetizing.
I'm sure this will be a favorite in your house just as it is in mine. Sam's being just a little mischievous when he tries to help his sister. You'll find yourself trying to see if you can guess what he'll add next.
Enjoy this fun, rhyming book shaped like a sandwich and illustrated to look like one, too. David, thanks for such a fun experience to share with the little ones in my life.

Details:
Pub. Date: September 1991
Publisher: Penguin Group (USA)
Format: Hardcover, 24pp
Age Range: 4 to 8
ISBN-13: 9780525447511
ISBN: 0525447512
Publishers Weekly Review

Once they feast their eyes on the exterior of this mouth-watering volume, youngsters will be impatient to dig in. The front and back covers are designed--quite convincingly--to resemble pieces of bread, and the spine reveals the neatly layered ingredients of the special snack Sam prepares for his sister. The most delectable morsels, however, are found within--each spread depicts one of the foods the obliging brother adds to his culinary creation. But the realistic renditions of sliced tomato, cucumber, cheese, pastrami, onion and hard-boiled egg fold out to disclose some of Sam's secret--and less appetizing--additions, including a fly, worm, slug, caterpillar and some ants. Youngsters will be too engrossed in Sam's creative sandwich-making to notice that Pelham's singsong rhyme occasionally falters. This cleverly designed book accomplishes what it sets out to do: it serves up a tasty little snack rather than a full-course meal. Ages 4-9. (Sept.)
Have You Read This Book? Review it for Our Visitors!
Have you read the book? Well our visitors would love to hear about it. Write a review. What did you think about the book? Was it worth buying? Would you recommend it to others? Would you give it as a gift? How were the illustrations? What did you like (or not like) about the book?

Whatever you have to say, we'd like to read it.
Read Other Visitors Reviews
Click below to read reviews from other visitors to this page...

Sam's Sandwich Not rated yet
This was my daughter's favorite book when she was young, she is now 26. She sold it at a garage sale when she was a teenager and we would love to find …
Go from Sam's Sandwich back to Fun Sandwich Books

Go to the Sandwiches Again? Blog

Go to the Home Page






Recipe Index|About Us|Contact Us|Survey
Disclaimer|Privacy Policy|Site Map|FAQs|Advertising Policy|