Sandwich Spreads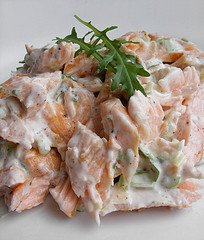 Sandwich Spreads can be simple or complex. Savory or sweet. Smooth or chunky, though the term suggests the smoother the better. You can make them according to your favorite recipe or come up with your very own version.
Experiment with your favorite breads, from plain country white, to honey oatmeal raisin loaf (I just made that up - sounds good though. Let me know if you have a recipe).
That's the best part about sandwiches, fillings, and spreads. You can experiment to come up with a sandwich you really love. One that's uniquely your own. One you will turn to again and again to serve at parties or get-togethers. Or when you want to treat yourself.
Here is a list of my favorite spreads I've found while searching the internet and going through my cookbooks. The recipes will follow soon. If you'd like to add your favorite spread recipes to our list, use the form below. This is one category I look forward to expanding.
If you'd like to try a few "old fashioned" sandwich filling recipes, click here.


What's Your Best Sandwich Spread Recipe?
Do you have a favorite Sandwich Spread Recipe? Why not share it. Our visitors will try it. We'll rate it to see who's recipe is best!

Go ahead and wow us. The best recipes will rise to the top!
Go from Sandwich Spreads back to the Home Page

You might also want to check out Salad Sandwiches

And check out the Sandwiches Again? Blog for more recipes.






Recipe Index|About Us|Contact Us|Survey
Disclaimer|Privacy Policy|Site Map|FAQs|Advertising Policy|