Ham Salad Sandwich Spread
with a Basil Twist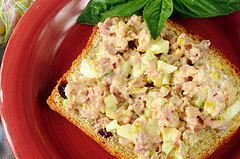 I just found a delicious Ham Salad Sandwich Spread recipe by Romaine at Salad-in-a-Jar. Just looking at the pictures she posted makes my mouth water. If you like sandwich spreads, this is one you must add to your recipe files.
The Recipe

Ingredients:

1 pound ham (the better the ham, the better the spread)
2 hard-boiled eggs, chopped
1 stalk celery (optional, chopped very finely if you like crunch in your sandwich)
4 tablespoons Durkee's Famous Sandwich and Salad Sauce
1/3 cup olive oil mayonnaise or reduced fat mayonnaise
1/3 cup sweet pickle relish
Seasoning salt, (sparingly if desired–ham is salty already)
White pepper to taste
Fresh sweet basil leaves

Directions:
First: Chop ham finely or place in a food processor and pulse several times until ham is chopped but not too fine.

Second: Chop hard-boiled eggs and celery. Add to ham. Add remaining ingredients and stir gently to combine.

Third: Chop basil and add to spread if serving immediately. Otherwise, leaves should be left whole and added to sandwich before serving. Cut leaves will turn an unappetizing color.

Thank you Paula, for creating such a great recipe.

I'm sure that you may also have a great ham salad spread recipe just like this one. You can share it with us using the form below.


What's Your Best Ham Sandwich Spread Recipe?
Have a favorite Ham Sandwich Spread Recipe? Why not share it. Our visitors will try it. We'll rate it to see who's recipe is best!

Go ahead and wow us. The best will rise to the top!
Go from Ham Salad Sandwich Spread back to Sandwich Spreads

Go to the Sandwiches Again? Blog

Go to the Home Page






Recipe Index|About Us|Contact Us|Survey
Disclaimer|Privacy Policy|Site Map|FAQs|Advertising Policy|