Peanut Butter and Jelly Sandwich - Part 2
This is Peanut Butter and Jelly Sandwich – Part 2,
to read Part 1 first, click here
.

How to make a PB&J

Now, the perfect peanut butter and jelly sandwich is probably impossible to find. Only because there are as many different versions as there are people who make them. And I'm sure you've had many debates about how much peanut butter and jelly you should use or whether or not to toast or not to toast the bread. (That is the question).
Click here to go to the recipe now.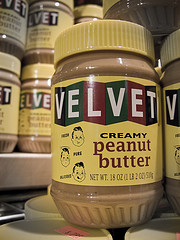 Taste dictates what you prefer in the end. White or wheat bread. Jelly or jam. Chunky or smooth. Grilled, toasted or fresh. Whatever you decide, the end result is always delicious. A comfort food in the simplest sense. Eat it for breakfast, lunch, dinner, or even dessert. Serve it with a glass of iced milk, a cup of tea, or hot cocoa.

So here's my take on the ever popular peanut butter and jelly sandwich. I prefer 100% whole wheat bread. Occasionally I toast it. I also love jelly or preserves and smooth homemade peanut butter over store brands. I usually have a cup of tea along with my sandwich. Sometimes I drink milk or orange juice or just plain water.
What you'll need:
2 slices of whole wheat bread (or three for a triple-decker*)
1 jar of your favorite peanut butter
1 jar of your favorite jelly or jam
Spreading knife and plate
Softened butter if grilling and a pan to grill your sandwich in
Spatula for turning and oven mitt if needed
Directions:
Spread one slice of bread with peanut butter. I prefer mine not to spread it too thick. Make sure to spread all the way out to the edges evenly. I hate taking the first bite of my sandwich without enough peanut butter or jelly, don't you?
Spread the other slice of bread with jelly, jam, or preserves. Yes, making sure to spread evenly to the edges – you're getting the hang of it, if you're not an old pro already.
Top with peanut butter slice. If you like them plain, you're all done. Enjoy! *If you want a triple-decker PB&J, here's where you do it. Spread jelly or jam on top of the finished sandwich. Get your third slice and spread it with peanut butter. Place on top and continue on to next step if you want a grilled triple-decker sandwich. If you want it grilled, go on to the next step.
Lightly butter the top of your sandwich and set aside while you get your pan ready.
Place pan on stove and turn to medium low. I've found that slow grilling is better. If you turn it up too high, there is a chance of burning if you aren't careful.
Place your sandwich in the pan, buttered side down. Butter the opposite side now, but don't turn yet. Grill about 1 to 2 minutes on low, or until bottom is lightly browned. If you like it darker, go for it. Just keep peaking underneath, using the spatula until you reach your desired "browness".
Use the spatula to flip your sandwich carefully. I use an iron skillet and that's why I need an oven mitt. If your pan handle doesn't overheat, you don't need one.
Grill about 1 or 2 minutes on low or until you reach – you guessed it - your desired "browness". Lift out of the pan, turn off the stove and place on your plate. Slice in half with knife or spatula (I like mine whole).

Grab your favorite beverage and enjoy! That's my take on the perfect peanut butter and jelly sandwich. Simple, I know, but that's the beauty of it. Anyone can make this sandwich.


Again, there are as many variations or versions as there are people who make them. So what's your version? Contact us here and we'll add it to the list.


What's Your Best PB&J Sandwich Recipe?
What's your Best PB&J Sandwich Recipe? You share it. Our visitors will try it. We'll rate it to see who's recipe is best!

Go ahead and wow us. The best will rise to the top!
Best PB&J Sandwich Recipes from other Visitors
Click below to see PB&J Sandwich Recipes from other visitors to this page...

Frozen Peanut Butter Patties Not rated yet
This isn't a recipe, but I thought it would be a good addition to your site. And it's actually not mine, but I found it on You Tube. Shop Dog Sam (shopdogsam …
Go from Peanut Butter and Jelly Sandwich Part 2 back to Part 1

Go from Peanut Butter Jelly Sandwich to the Sandwiches Again? Blog






Recipe Index|About Us|Contact Us|Survey
Disclaimer|Privacy Policy|Site Map|FAQs|Advertising Policy|