Barbecued Onion Sandwich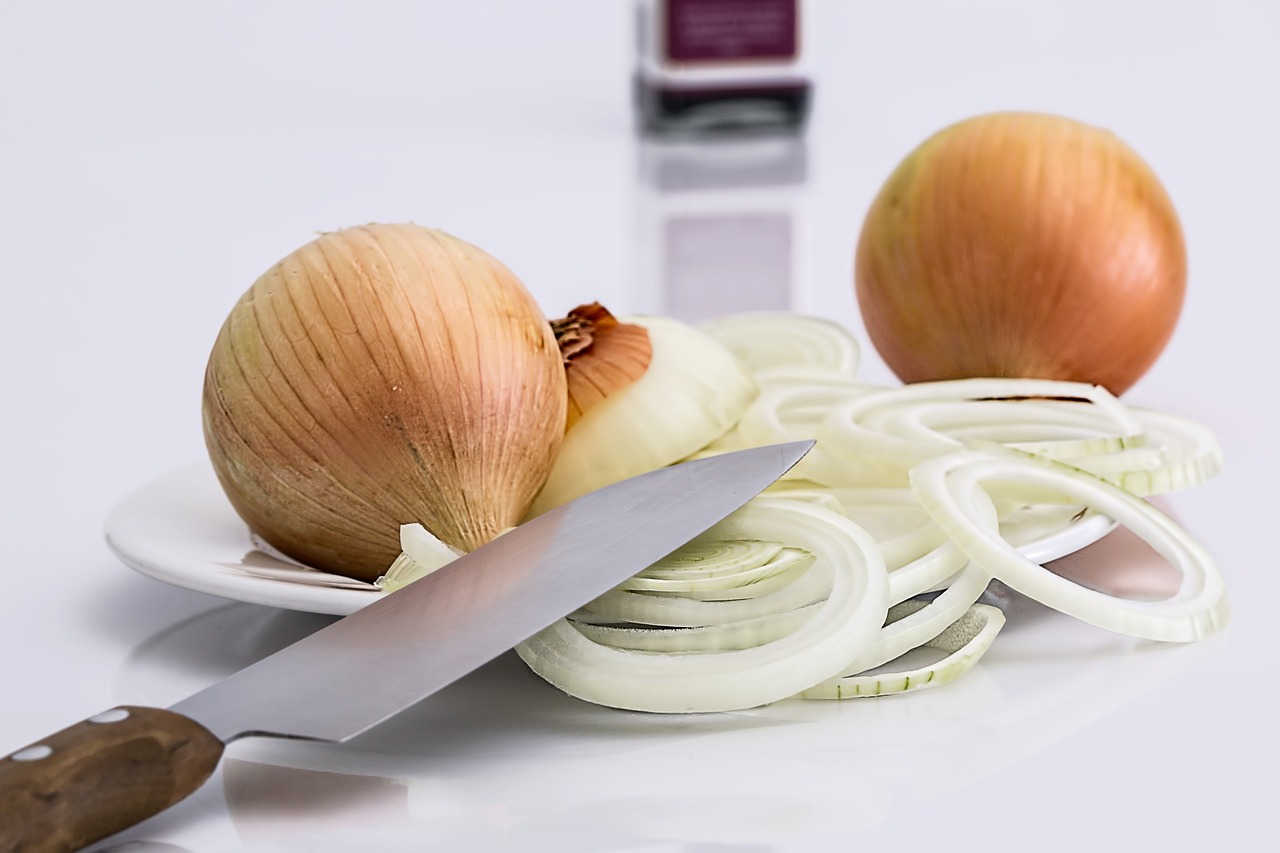 When we first made a barbecued onion sandwich, we thought they were the best sandwich in the world. Well maybe not the very best, but certainly in the running and one that we will return to as often as we can.

This is more like a filling, but tastes just as great as a topping for veggie burgers, in wraps, or on other sandwiches. Or just add other veggies such as cucumbers, mushrooms, and peppers. And it would be very good on top of roasted veggies like zucchini, carrots, cauliflower, broccoli, sweet potatoes, and white potatoes.
I've eaten them both ways, just as a sandwich or as a topping. The key to this sandwich is to use your favorite barbecue sauce. My favorite used to be  Sweet Baby Ray's. And a close second was anything in the Bull's Eye brand. Now that we're plant-based and mostly oil-free, I make my own version, which has maple syrup (which I may change to date paste) and no added salt other than what's in the liquid aminos. I'll share how I make it below after the sandwich recipe.
If you decide to use your favorite barbecue sauce, I'm sure you will love this sandwich as much as we do. I really think the sauce makes the sandwich in this case. The recipe is very simple and the bread you choose should be able to handle a sauce without becoming soggy, (unless you like soggy).
Barbecued Onion Sandwich Recipe
(Oil-Free Version)
Ingredients:
1 large sweet onion (red or Spanish will also work), sliced
2 T Extra Virgin Olive Oil (you can use a small bit of water if you don't want the fat from the olive oil)
1/4 cup of barbecue sauce (more or less according to your preference
1/4 tsp. black pepper (optional)
1 whole wheat bun, kaiser roll or whatever bread you prefer (toasted)
Steps:
Heat a non-stick skillet (optional) over medium heat
Add oil or water
Add onions to skillet and saute till tender
Add barbecue sauce and black pepper. Heat through.
Pile on your toasted bun, roll, or bread.
Eat and enjoy!

Adapted from recipe in the Fit for Life Cookbook by Marilyn and Harvey Diamond. (Opens a link in another window).
I told you it was simple. And you can easily sauté sliced green, yellow, or red, bell peppers, or sliced mushrooms along with the onions. You can slice cucumbers onto your roll before adding the onions.
You can add your choice of cheese and/or a veggie burger. However you use this – as a filling or a topping - you will need lots of napkins when you enjoy this delicious sandwich because it's on the juicy side. 
You can use this recipe as a topping for other dishes as well, like rice or quinoa bowls. On pasta, I usually add a version of this which includes sliced cabbage and carrots. Sooo good. I make quite a bit so the ratio of pasta to veggies is about 1:1. Did I say it was sooooo good? Yeah, it is. Soooooo good.
DIY Barbeque Sauce Recipe
Now for the barbeque sauce, I rarely measure and I know that's a difficult way to cook for some of you, however that's how I do this. Maybe somewhere down the line, I will document my measurements, but right now, we'll go by taste. And by taste I mean when it tastes good to you, you've got it right.
Ingredients:
Apple cider vinegar* (I use Braggs)
Liquid aminos (I also use Braggs)
Ketchup (I make my own cherry ketchup because my husband is sensitive to tomatoes)
Liquid smoke
Mustard (Dijon or brown, however any yellow mustard will work)
Molasses 
Maple syrup (I plan to start using date paste that I make from dates soaked in water then blended in my Vitamix)
Onion powder
Garlic powder
Black pepper
Smoked paprika (optional)
Hot sauce (optional)
Steps:
Add all of your ingredients to a small mixing bowl.
The amount of apple cider vinegar I use depends on how much I want to make and it's usually equal to the amount of all the other ingredients added together.
The amount of liquid aminos is about 1/4 of the ACV.
The amount of ketchup and mustard is about the same, maybe about 2 Tablespoons each.
Liquid smoke is about 1 tsp, maybe a little more. You don't want it to overpower everything else.
Molasses is maybe about 2-4 Tablespoons.
Maple syrup is more or less to taste. If you like a sweeter barbeque sauce, add more. If you want it less sweet start out with a teaspoon then add more to taste.
I add about a 1/2 tsp each of onion powder and garlic powder and this also depends on how much you are making.
About 1/2 tsp of black pepper
Add smoked paprika and hot sauce to taste if you want to add these optional ingredients.
Whisk together all ingredients and then taste and adjust ACV for tartness, maple syrup for sweetness and hot sauce for spiciness.
Notes:
You can use any vinegar you have on hand, such as balsamic, or rice vinegar. Rice vinegar will make a milder barbecue sauce.
A quick word. This page may contain affiliate links. 
Dear Friends,

"Sandwiches Again? is a participant in the Amazon Services LLC Associates Program, an affiliate advertising program designed to provide a means for sites to earn advertising fees by advertising and linking to Amazon.com."

We'd also like you to know it doesn't cost you anything when you click through the links here on our blog. Not one single penny. And we will make a little extra cash when you do click through. We'll be ever so appreciative. You also have our word that we'll only link to things that we would use ourselves, (or wish we could have).