Asian Chicken Wrap
Here's a delicious Asian Chicken Wrap that's perfect for warmer weather. It's loaded with veggies so it's also healthy.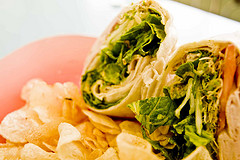 I like that – 424 calories and only 20% from fat. And only 30 minutes of Prep Time – perfect! You can serve them with Sweet potato fries or chips on the side and a fruit or green smoothie.
So here's the recipe:

Prep Time: 30 minutes


Ingredients:


1 1/2 c thinly sliced Chinese cabbage
1 1/2 c thinly sliced iceberg lettuce
1 c bean sprouts
1 med red bell pepper, sliced into strips
1/2 cup bottled ginger salad dressing
2 tsp reduced sodium soy sauce
4 10-inch flour tortillas or flavored tortillas
1 1/2 lbs. Boneless, skinless, chicken breasts, grilled


Directions:


1.In a large bowl combine Chinese cabbage, lettuce, bean sprouts, bell peppers, salad dressing, and soy sauce. Toss together, mixing well.
2.Place veggie mixture across center of each tortilla to withing 1 inch from outer edge.
3. Thinly slice chicken breasts and arrange slices on top of veggie mixture.
4. Fold 1 side of tortilla over filling and roll tightly.


Serves 4


Per Serving: 424 calories (20% from fat), 11g fat, 2g saturated fat, 110mg cholesterol, 1120mg sodium, 620mg potassium, 36g carbohydrate, 5g fiber, 46g protein
It's a wrap! (I've always wanted to say that.) And this one's a great addition to your recipe file. Great for lunch, dinner, or anywhere in between! So try it out and let us know what you think.
Good – bad, or so so...rate the recipe!


Loved this Recipe? Hated this Recipe? or Was it Just So So?
Then Rate the Recipe! Tell us what you liked or didn't like about it. Did you have to totally redo the recipe or was it perfect just the way it was written?

Give other visitors a heads up on what to expect or give suggestions on what they can do to improve the recipe before they try it. I'm sure they'll be glad you did!

We'd like all the juicy details, so don't be skimpy with your praise (or suggestions on how to make it better).


Want more Wrap Sandwiches? Try a Barbecue Beef Wrap!

Go from Asian Chicken Wrap back to Wrap Sandwiches

Go to the Sandwiches Again? Blog

Go to the Home Page






Recipe Index|About Us|Contact Us|Survey
Disclaimer|Privacy Policy|Site Map|FAQs|Advertising Policy|