Sandwich Maker Recipes
So, you just got a sandwich maker? Then you need sandwich maker recipes. Or at least ideas for recipes to use in your favorite new kitchen gadget.
There are so many things you can do with this versatile kitchen appliance. You can make anything from sandwiches to desserts and anything in between. From a simple grilled cheese sandwich to a grilled fruit pie. You can make just about anything in your sandwich maker.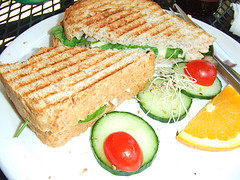 Another great thing about this simple appliance is its simplicity. Even children (with supervision) and teens can use it. Teach them to use it safely and they will be able to make their own afterschool snacks.
So what recipes have you tried? Grilled cheese? With ham? With tomatoes? Grilled peanut butter? With bananas? Or how about a pizza sandwich? Or a pocket sloppy joe sandwich with cheese?
If you have even an ounce of creativity, you won't have enough meals in the day to try most of the sandwiches you think up. For that reason, we are going to add just a few recipe suggestions to this page and add a form for you to share your own. So here's our short list. Hopefully it will stir up your creative taste buds.
Grilled cheese sandwich
Grilled ham and cheese sandwich
Grilled peanut butter sandwich
Pizza Sandwich
Panini sandwiches

Here are a few recipes for the toastie maker:
Okay, now it's your turn! We came up with our short list of recipes, now how about you? Give us your best recipe. So, see if you can....

Tickle our taste buds...
Please our palates...
Tantalize our tongues...
We're ready for whatever mouthwatering combination you have to share.


Can you Top this Sandwich Maker Recipe?
Do you have a favorite Sandwich Maker Recipe? Is it the Best? Do you make it all the time? Well why not share it with us? Our visitors will try it. We'll all rate it to see who's recipe is best!

Go ahead and share it with us. You can also tell us how you came up with the recipe. Be as descriptive as you can.

Your idea may be the one someone is looking for. The best recipes and suggestions will rise to the top!
Go from Sandwich Maker Recipes to the Home Page

Go from Sandwich Maker Recipes to the Sandwiches Again? Blog






Recipe Index|About Us|Contact Us|Survey
Disclaimer|Privacy Policy|Site Map|FAQs|Advertising Policy|