French Dip Sandwiches
The Food Network channel was where I first learned about French Dip Sandwiches. Since then, I have always wanted to try them. Now that we have established an official "Sandwich Night", it was the perfect sandwich to start with.
Click here to go to the recipe now.
One of my favorite cookbooks, (one that is or should be in everyone's sandwich cookbook library), is the Better Homes and Gardens Cookbook. I happen to have the 75th Limited Edition. I had to run out and purchase it when my oldest daughter left home and took my old copy.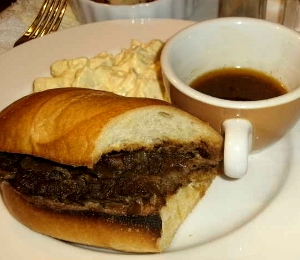 It has tried and true recipes, which I've never known to go wrong – at least in my experience. Anyway, while searching for sandwiches, I came across, ...you guessed it – French Dip recipe.
It's fast if you already have cooked beef, which I did not. I purchased and looked up how to cook a bottom round steak. According to the Discuss Cooking website cooking forums, this piece can be very tough. The best way to cook it is by braising – which I am doing as I write.
Once the beef was cooked, I used the recipe below:
French Dip Sandwiches

Start to Finish: 30 minutes ~ Makes: 4 sandwiches

1 large onion, sliced and separated into rings
1 clove garlic, minced (I used 3 or 4 – can you tell we like garlic)
1 Tablespoon butter or margarine
1 14 ounce can beef broth
1/2 teaspoon dried thyme, marjoram, or oregano, crushed
1/4 teaspoon black pepper
12 ounces thinly sliced cooked beef
4 French-style rolls, split

1. In a saucepan cook onion and garlic in hot butter until tender. Stir in broth, thyme, and pepper. Bring to boiling; reduce heat. Simmer, uncovered, for 10 minutes. Add beef. Return to boiling; reduce heat. Simmer, uncovered, 5 minutes more or until beef is heated through.

2. If desired, toast rolls. Remove beef slices and onion rings from liquid. Arrange on rolls. Serve with individual dishes of broth for dipping.

(Better Homes and Gardens New Cookbook, The 1930-2005 75th Anniversary Limited Edition; page 359)
After making this recipe, I must say, we are all big fans. These delicious sandwiches are now on are list of once-in-a-while meals. We don't eat beef very often, but when we do, this will be a recipe we turn to again and again.
Go from French Dip Sandwiches back to Beef Sandwiches
Go to the Sandwiches Again? Blog
Go to the Home Page
Recipe Index|About Us|Contact Us|Survey
Disclaimer|Privacy Policy|Site Map|FAQs|Advertising Policy|