Beef Sandwiches
I've never found a poll about how many people eat beef sandwiches, have you?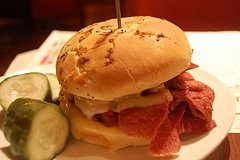 I imagine the numbers are pretty competitive when compared to all other kinds of sandwiches. Personally, I don't eat much beef, but occasionally I love a good hamburger or steak sandwich.
And who hasn't laughed along with their friends when someone yells out - "Where's the beef!" or "Beef, it's what's for dinner!" Needless to say, beef has been a mainstay in American culture. From the cattle farms of the old west to the fast food restaurants of the present.
Beef is only second to chicken when it comes to how much beef is eaten in the US. I'm not sure how that translates as far as sandwiches are concerned, but I imagine those numbers are pretty high as well.
I'm sure hamburgers are probably the most eaten sandwiches and there are websites entirely devoted to it. We'll add it to the list, along with some of our other favorite sandwiches. So get ready for some beef!
Corned beef
Hamburgers
Meat loaf sandwiches
Roast beef
Sloppy joes
Steak sandwiches
Now, I'm sure this is no where near a complete list of sandwiches in this category, but it's a start. We'd love it if you add your favorites to the list.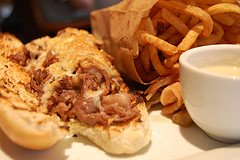 You can do that by using the form below. Share your favorite sandwich recipes that have beef as the main ingredient.





Go from Beef Sandwiches back to Meat Sandwiches

Go to the Sandwiches Again? Blog

Go to the Home Page






Recipe Index|About Us|Contact Us|Survey
Disclaimer|Privacy Policy|Site Map|FAQs|Advertising Policy|