More Breads
Here are more breads for you to try. All from an old vintage cookbook that your grandmother may have used years ago. I love many of these old recipes, straight and to the point. Nothing extra, just the basic ingredients. Some of the terms may be a little unfamiliar, but most are not that hard to figure out the meanings.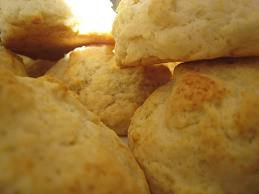 You find a recipe for English muffins, biscuits, oatmeal bread, and waffles. Take your pick. They're each perfect for making great breakfast sandwiches.

English Muffins

1 1/2 cups milk
1 tablespoon sugar
1 teaspoon salt
3 cups bread flour
1/2 yeast cake
1 egg
1/8 teaspoon baking soda

Heat milk till tepid (or lukewarm about 110 degrees F); add sugar and salt and the yeast cake softened in a little warm water. Beat in flour to make a soft batter, from two to three cups according to the brand of flour, and let rise till light, about three hours. Stir in the egg, which has been well beaten and the baking soda. Beat thoroughly, and cook in muffin rings on a griddle. This must be done slowly, about twelve minutes being the right length of time.

Georgia Split Biscuits

3 large Irish potatoes (baking or Russet, maybe)
1/2 cup butter
1/2 cup shortening
2 cups tepid milk (lukewarm)
2 eggs
1 compressed yeast cake
1 tablespoon sugar
2 teaspoons salt
Bread flour to make sponge and to knead, about 11 cups

Pare (or peel) and boil the potatoes until soft; mash fine while hot. Add the shortening; and beat the eggs in separately. Then add the yeast, softened in the milk, and enough sifted bread flour to make a sponge, about 3 cups.
Let rise until light, then add the salt and sugar, and flour enough to knead the mixture to a satin-like dough. Let rise again till light. Roll one-half inch thick, and cut into flat biscuits. Brush over the tops with melted butter, place them together in pairs, let rise again, and bake in a moderate oven at 375 degree F.
This makes from four to five dozen biscuits.

Oatmeal Bread

1 cup rolled oats
1/2 cup molasses
1 teaspoon salt
1/2 yeast cake
Bread Flour
1 pint boiling water

Pour the water over the oats, then set aside in a covered dish till lukewarm. Add the molasses, the yeast cake, softened in a little warm water, and a cup and a half of bread flour. When this is spongy, add the slat (must be an old bread-making term - any suggestions?) and enough flour to make a dough stiff enough to lift in the hand.
Let raise till double in bulk. Cud (or punch) down, and turn into oiled tins (or pans. Let raise again, and bake about three-quarters of an hour in an oven not quite as hot as white bread (maybe 325 degrees, you may need to experiment here or look up some white bread recipes – an Amish white bread recipe I found was 350 degrees).
This makes two loaves and if started early in the morning, can be finished about two o'clock.

Waffles

1 3/4 cups bread flour
3 teaspoons baking powder
1/2 teaspoon salt
1 cup milk
1 tablespoon melted butter
2 eggs

Beat the whites and the yolks of the eggs separately. Add milk to the yolks, and then the flour and baking powder slowly, and stir. Fold in the whites, and add the butter. Cook on well greased waffle irons.
So there you have it, more breads for great sandwiches. These are all perfect for breakfast sandwiches, as well as snacks or for making lunches that are just a bit different. So try one today and let us know what you think. Especially if you make changes or can tell us what some of the old terms mean. Use the form below to leave your comment, even if you don't like the recipes.
If you found this page first, click here to find a list of even more breads that are perfect for sandwiches! And bookmark us so you'll know when we make updates.


Loved this Recipe? Hated this Recipe? or Was it Just So So?
Then Rate the Recipe! Tell us what you liked or didn't like about it. Did you have to totally redo the recipe or was it perfect just the way it was written?

Give other visitors a heads up on what to expect or give suggestions on what they can do to improve the recipe before they try it. I'm sure they'll be glad you did!

We'd like all the juicy details, so don't be skimpy with your praise (or suggestions on how to make it better).


Go from More Breads back to Sandwiches Again? Blog

Go from More Breads to the Home Page






Recipe Index|About Us|Contact Us|Survey
Disclaimer|Privacy Policy|Site Map|FAQs|Advertising Policy|