Chicken Sandwich Recipes
Chicken Sandwich Recipes are probably one of the most versatile sandwiches you can make. Chicken for one, can be made in almost any flavor, from sweet to savory. Pick any one of your favorite chicken recipes and use the leftovers for a gourmet sandwich.
Click here to go to the recipe now.

Our favorite recipe
One of our favorite chicken recipe is barbecue chicken. This can either be a whole chicken or chicken breasts. These are the best to make sandwiches from.
Chicken drumsticks and wings can be used, too. You just have to remove the meat from the bones. They would probably work better for chicken salad sandwiches if that's all you have on hand.
The easiest would be to get a pack of boneless chicken breasts or tenderloins. You can use fresh if you want to eat right now – they don't take long to cook. Especially if you have a grill that cooks both sides at the same time.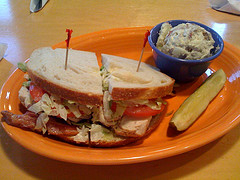 If you have purchased frozen, bake them from frozen in the toaster oven or oven. I usually place them in a small glass oven dish. Pour a little olive oil over them.
Mix a little barbecue sauce (our favorite is Sweet Baby Ray's) with a little water to thin it if it's too thick. Then season them with onion powder, garlic powder, paprika, black pepper, and basil. Bake for about 45 min. to an hour or till tender. This depends on how thick your chicken breast is.
For Bar-b-que chicken sandwiches, cook chicken using the above recipe. Remove from oven and let rest a few minutes. Slice the chicken breasts in half inch slices from side to side.
For Italian chicken sandwiches, substitute Italian salad dressing for the barbecue sauce and olive oil. Just pour dressing over your chicken breasts in the baking dish – seasonings are already in the dressing! If you want more, just add more onion powder, garlic powder, and Italian seasoning to taste.
For Honey Mustard chicken sandwiches, mix brown mustard (about a ¼ cup) with about 2 -3 Tbsp of honey. Stir to mix and pour over chicken breasts. Bake as for barbecue chicken. I don't usually add any other seasonings.

Now for the sandwich
I think the bread for a sandwich needs to match the filling. For a chicken sandwich you need something like french bread or a hoagie roll. Kaiser rolls would probably work as well.
Layer on your favorite spread – mayonnaise, mustard, or nothing if you have used one of the recipes above. Next layer on lettuce, tomatoes, onions (raw or sauteed). Top with sliced chicken breast.
These are more like do-it-yourself recipes. You pick your favorite chicken recipe, your favorite sauce, and your favorite toppings. And you have the makings for delicious chicken sandwich recipes.
Bon apetito!


What's Your Best Chicken Sandwich Recipe?
What's your Best Chicken Sandwich Recipe? You share it. Our visitors will try it. We'll rate it to see who's recipe is best!

Go ahead and wow us. The best will rise to the top!
Go from Chicken Sandwich Recipes back to the Home Page

Go from Chicken Sandwich Recipes to the Sandwiches Again Blog

Go to Chicken Salad Sandwich Recipe

Go to Asian Chicken Wrap






Recipe Index|About Us|Contact Us|Survey
Disclaimer|Privacy Policy|Site Map|FAQs|Advertising Policy|