Sandwich Video of the Week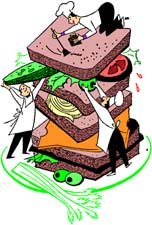 Here's the Sandwich Video of the Week!

We searched high and low
To find this special video
A delicious sandwich recipe
Or song that you should hear.
We hope you enjoy it
And want to share it
With everyone you know!
Oh boy, that was a little corny, sorry. But here is the video. Go ahead and share it with your family and friends. You can share it on Facebook or Twitter! Scroll to the bottom to find the links to share.
Sandwich Video of the Week!
I know it's been awhile since we added a video of the week. Since we last posted one, we began a plant-based lifestyle. So whole foods that are plant based. Eating this way has done wonders for our health and it's amazing how we crave the taste of fresh veggies now. Anyway, we hope you enjoy the newest video.
It's back to school for many, so I thought I'd share this sandwich video which features 5 sandwiches you can pack for lunch, from meat-lovers to veggie, you should find something you like. The sandwich ring is the most creative and the fillings could easily be changed to suit your taste.

5 Sandwiches You'll Love Packing for Lunch
---
I know you've probably given up on us here at Sandwiches Again, however, I just ran across this video that you might like. The Best Sandwich in Every State features the favorite sandwich from, you guessed it, all 50 states in the US. And yes, they all look delish! Enjoy!!

---
I know it's been awhile since I added a new sandwich video, but here's a pretty cool one, especially if you like veggie sandwiches. This one, with grilled eggplant looks really tasty and easy to make. I may try it for dinner tomorrow - how about you?

---
It's back to school time and that means packing lunches. You've probably thought of making your kids noon meal healthier in light of all the attention school lunches are receiving. Here a few tips to help you make better choices when it comes to the ingredients you choose to make sandwiches.

---
I'm afraid we may have warmed it up a little too much with that last sandwich video. How about a cool sandwich that doesn't take any cooking? Here's a great summer meal using fresh veggies and things like pesto, avocado, and hummus. And if you're a vegetarian, it's easy to make them without the meat. Add a fruit smoothie and you're set!

---
Maybe if we add a grilling recipe, it will warm up here in Ohio - what do you think? Well, either way, here's a delicious looking Grilled Chicken recipe for all of you who do have warm weather now, and have pulled out and cleaned off your grills.

---
If you like vegetarian sandwiches, you might like this sandwich called a Bombay Sandwich. It's made from potatoes, tomatoes, onions, chili peppers, and a few Indian spices. If you don't like hot and spicy, just leave out the chili peppers and the crushed red pepper for a really great sandwich. Serve it on regular bread or flat bread.

---
I just found the neatest video for the "Best Fried Bologna Sandwiches". My dad used to love these sandwiches and never passed up a good deal on Trail Bologna. If you've never made a fried bologna sandwich before - start here, and have plenty of paper towels on hand when you do. Enjoy!

---
After having turkey all weekend, you're probably ready for some lighter fare. So how about tea sandwiches? The host of the video offers really great tips for making simple, moist, and delicious, cucumber and tomato tea sandwiches.

---
It's been a while since I added a sandwich video and it's almost Thanksgiving! I thought for the rest of the year I'd add sandwich videos for entertaining all those guests you'll be having over the next few weeks.
Oh, no guests? Or just a few? Well, whether you're have a houseful or just a few, (or even just you), finger or tea sandwiches are fun either way. So check out these Pimento Cheese Sandwiches by Betty.
---
Have you heard of the new PB&J Campaign? Well we hadn't until a few days ago. It's a campaign that seeks to reduce the impact on our agricultural system one sandwich at a time.
Mission
The PB&J Campaign is working to combat environmental destruction by reducing the amount of animal products people eat. The PB&J Campaign approaches positive change one meal at a time by illuminating the differences one single dining decision can make.
And here are their "spokes-sandwiches" telling you all about it!
---
If you've been following Sandwiches-Again.com, you'll notice that we just added a BBQ Pork Sandwich Recipe. I just found this delicious recipe on YouTube and thought I'd share it as well. I'm definitely going to try this recipe next week. (And if after watching the video, you missed the temperature - it's 300 degrees.)

---
What's an Oh Katie Cookie? It looks like the perfect dessert sandwich cookie to me. My mouth is watering just thinking about them - chocolate chip with your choice of various chocolate flavored fillings....yum! I think Oh Katie has come up with a winner - what about you?

---
It's summer and with summer comes outdoor grilling. Whether it's burgers, hot dogs, sausage, or the ever favorite chicken. Chicken is so versatile. You can do it up in so many ways. Just talking about it makes me want to go out and get a package of chicken breasts and fire up the grill. (Only I don't have a grill...., yet).
Here's a video for a Grilled Chicken Sandwich by Chef Jason of CookingSessions.com. Simple and easy to make on the grill. At least it will keep the heat out of the kitchen on these hot summer days. And by the many comments it's gotten, it looks to be a "keeper".
---
Do you eat Grilled Cheese Sandwiches? Well, Melt Bar & Grill is most likely the best place to get a cheese sandwich. You are also likely to find the most creative versions at this eatery as well. Check out the following playlist - Matt on the Street - for all kinds of exciting and different cheesy melty goodness!
---
Now, we don't eat beef regularly, but every now and then we like to cook a roast. Here's a sandwich video that Betty of Betty's Kitchen cooks in the crock pot or slow cooker. She then makes Roast Beef Sandwiches and Mashed Potatoes. She tops it off with a delicious gravy. Yummm.....I'm getting hungry!

Here's the ingredient list for the recipe.
"Ingredients: (to make 4 to 6 sandwiches):
1 ½ pounds to 2 pounds top round beef roast (I used 1 ½ pounds, which will make about 4 sandwiches.) 
meat tenderizer or salt, to taste 
2 slices whole grain bread, toasted, for each sandwich mashed potatoes (Please see Bettys Homestyle Whipped Potatoes Recipe, if you need help.) 
roast beef gravy (Please see Bettys Crock Pot Eye of Round Roast with Flavorful Gravy Recipe, if you need help.)" 
---
Here's this weeks sandwich video. Have you tried the World's Greatest Sandwich yet? Well you're in luck. If you like BLT's, you'll love this sandwich - I'm sure of it. It looks pretty good. But you don't have to take my word for it. Click here to get the recipe (we've typed it out for you if you didn't catch it on the video).

---
This weeks video is just fun. And if you can believe it, this is the first time I've ever heard it. Anyway, I really like it and I hope you do, too.
Sandwiches are Beautiful Song
---
Egg salad sandwiches are an easy, economical, nutritional meal. If you'd like to see how to make the perfect egg salad sandwich, here is a great video for you. Then use the link above for our recipe and other salad sandwich recipes.
So enjoy this weeks video and scroll down if you'd like to see previous videos from past weeks.
Egg Salad Sandwiches
---
There aren't very many people who don't like peanut butter and jelly or at least peanut butter or jelly sandwiches. But I suppose there is someone who doesn't. If you do, here is a video I'm sure you will like.
The Peanut Butter and Jelly Sandwich Song
---
Again, if you thought that was fun, scroll down and share it with your friends. And check back next week to see another Video of the Week.
Do you have a video you'd like to submit for us to feature? Click here to add (or more). You never know, you could be on Video of the Week!
Do You Have A Sandwich Video You Think is the Best?
Do you love taking videos of your food? Yes?! Well why not share videos of making your best sandwiches here! If you can make us and our visitors drool, you could be featured in an upcoming Sandwich Video of the Week!
Go from Sandwich Video of the Week back to the Home Page

Go from Video of the Week to the Sandwiches Again? Blog

A quick word. This page may contain affiliate links. 
Dear Friends,

"Sandwiches Again? is a participant in the Amazon Services LLC Associates Program, an affiliate advertising program designed to provide a means for sites to earn advertising fees by advertising and linking to Amazon.com."

We'd also like you to know it doesn't cost you anything when you click through the links here on our blog. Not one single penny. And we will make a little extra cash when you do click through. We'll be ever so appreciative. You also have our word that we'll only link to things that we would use ourselves, (or wish we could have).