Breakfast Sandwiches
When you think of breakfast sandwiches, what first comes to mind? If you said an Egg McMuffin or something similar, you're right along with most people when it comes to quick, grab and go sandwiches. It's so easy to pop an English muffin in the toaster, scramble up some eggs, fry up some bacon, put them all together and run out the door. And even easier to run to the nearest fast food restaurant and grab one already made.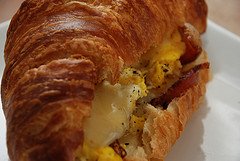 The best, and healthiest, sandwiches are the ones you make yourself. Some you can even make-ahead and refrigerate or freeze till later.
Well, here's a list of our favorite sandwiches and we'd love to see what your favorites are. Use the form below to add your favorite breakfast meal between two slices of bread, or in a pocket, or in a wrap, or..., oh, just surprise us. (updating soon).
Grab and Go Breakfast
Bagel Sandwich
Breakfast Wrap
Breakfast in a Pocket
Waffle on the Go
Flatbread Breakfast
Croissant 'wich
So there you have it - our favorite on the go morning sandwich recipes. Quick, easy, portable, and nutritious. Perfect for eating on the go or even as a sit down breakfast with your family. Make them with your kids on a lazy weekend morning. I love sandwiches anytime of the day, so why not breakfast?

Go from Breakfast Sandwiches back to the Home Page

Go to the Sandwiches Again? Blog






Recipe Index|About Us|Contact Us|Survey
Disclaimer|Privacy Policy|Site Map|FAQs|Advertising Policy|