Cocoa Banana Smoothie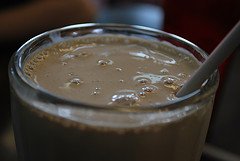 I love chocolate milkshakes, don't you? This Cocoa Banana Smoothie is the perfect drink to go with a burger or steak sandwich and fries.
1 cup milk of choice
1 1/2 cups frozen banana slices
3 tablespoons unsweetened cocoa powder
1/2 teaspoon cinnamon


Pour the milk in a blender and add the frozen banana slices, cocoa powder, and cinnamon. Blend until smooth.


Serves 2 = 8oz. glasses
Try it with your favorite steak sandwich, or any of your favorite sandwiches. It's simple and easy to make. Replace the cinnamon with vanilla or almond flavoring (or actual almonds) for a slightly different variation.
If you are allergic to dairy, try one of the delicious milk alternatives now available. I love the Almond Milk without the vanilla flavoring for cereal and other recipes that wouldn't require a flavoring. For this recipe, however, the vanilla flavored version would be fine.
Silk has an almond version and their original soy version. I even saw a hemp milk and a flax milk at the health food store the other day. So if dairy is not your thing, or you're allergic to it, you can still have this delicious smoothie. You can substitute one of this for any of the smoothie recipes here.
For more smoothies, click here. For a great steak sandwich, click here.

Go from Cocoa Banana Smoothie back to Smoothies
Go to the Sandwiches Again? Blog
Go to the Home Page






Recipe Index|About Us|Contact Us|Survey
Disclaimer|Privacy Policy|Site Map|FAQs|Advertising Policy|