Smoothies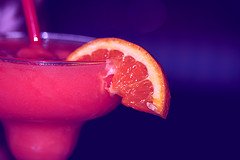 Answer: Smoothies.
Question: What kind of drinks go best with a sandwich?
Well, maybe not all the time, but some times. And there are some that go well with certain types of sandwiches - when nothing else will do. There are some of these smooth, refreshing drinks that can round out your meal perfectly.


So where do you start? One of my favorites is a cold, refreshing mix of frozen mangoes, strawberries, and bananas, in orange juice. And believe it or not, we like to add in a carrot or two and a handful of spinach leaves. You won't even taste them, but the health benefits are definitely a plus.
We were finally able to buy our dream juicer about a year and a half ago. Our Vita-Mix machine is the ultimate in our book. You can add most fruits and veggies seeds and all, so we benefit from not only vitamins and minerals, but also phyto-nutrients. We can all use a few of those, don't you think?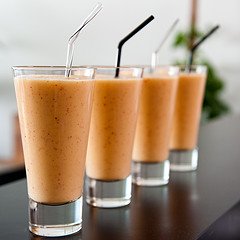 Here's a list of our favorites from the Vita-Mix cookbook that came with our juicer. And a few from a juicing cookbook - The Ultimate Smoothie Book by Cherie Calbom to get you started.
Mixed Fruit Smoothie
Berry Delicious
Citrus Smoothie

(*These recipes are in The Ultimate Smoothie Book)
I'm sure you'll enjoy these cool, delicious drinks with your sandwiches just as much as we do, especially during the summer. We like them about as much as we love sandwiches. Depending on what we put in them, they sometimes qualify as a meal all by themselves!



Go from Smoothies back to the Home Page

Go to the Sandwiches Again? Blog






Recipe Index|About Us|Contact Us|Survey
Disclaimer|Privacy Policy|Site Map|FAQs|Advertising Policy|