Sandwich Tray Menu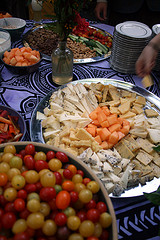 Here's our sandwich tray menu for Christmas 2010. Yes, I'm not afraid to admit it – we had sandwiches for dinner on Christmas day. Only one hot dish; sloppy joes, oh yes, and Buffalo Chicken Dip.
Breads
Earth Grains Thin Buns – 100% Whole Wheat
Lawash Brand Flatbread – 100% Whole Wheat
Brownberry Specialty Onion Sandwich Buns
BeefSteak Hearty Rye Bread
Beefsteak Pumpernickel Bread
Schwebel's Golden Hamburger Buns
Meats
Lifestyles Honey Turkey Breast
Lifestyles Golden Brown Turkey Breast
Lifestyle Honey Mesquite Ham
Beef Bologna
Corned Beef
Roast Beef
Crock Pot Sloppy Joe's

Cheeses
Swiss Cheese
Colby Jack
Muenster
Provolone

Veggies
cherry tomatoes
black olives
Spanish olives
bread and butter sandwich pickles
celery
baby carrots
broccoli
cauliflower
We set out trays of the meats, cheeses, and veggies. These, along with Spinach, Buffalo Chicken, and Ranch Dressing Dips; filled out the trays. We also had Restaurant Style and Multi-Grain Tortilla Chips.
So, this was our menu for Christmas Day 2010. This is not even including the fruit and nut bowls, Monkey Bread and Banana Bread for breakfast/brunch and the cookie trays and fudge tins for dessert. I'd say we were pretty much set for the day, don't you think? It was relaxing and fun.

Go from Sandwich Tray Menu back to Sandwich Tray

Go to the Home Page

Go to the Sandwiches Again? Blog






Recipe Index|About Us|Contact Us|Survey
Disclaimer|Privacy Policy|Site Map|FAQs|Advertising Policy|