Submarine Sandwiches
Submarine sandwiches are the closest thing to a meal between two pieces of bread or on a bun. They are so popular, that everyone has no doubt been to at least one restaurant that serves them exclusively.
Whether it's:
Subway
Mr. Hero's
Quizno's
Jimmy John's
Blimpie
Firehouse Subs
Lenny's Sub Shop
Penn Station
you can easily make a meal out of one of their sandwiches. We've been to all three and can honestly say that Subway is our favorite. We just started eating at Jimmy John's because that's our sons favorite. And we have our favorites there as well.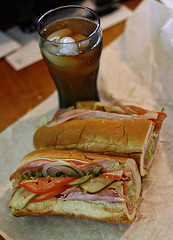 Sometimes, though we like to make our own. It's all just a matter of knowing what you like, getting all the ingredients together, then putting it together.
Are cold cuts like turkey breast, roast beef, or salami your choice of sub? Or do you go for grilled chicken, ham, or beef? Maybe a tuna or meatball sub would make your meal complete. Whatever you like, find a good source and get enough for everyone to make a foot long sandwich.
Get your favorite bread, (I love ciabatta), torpedo roll, or hoagie bun. Get your favorite cheese, and spreads – mayonnaise, mustard, oil, vinegar, and sauce. Don't forget the lettuce, peppers (hot, sweet, and mild), onions. Now all you need is a chopping board, a knife, and of course your appetite!
Here's a video by the BBQ Pit Boys making a Classic Sub Sandwich.
And here's one for the kids.
Go from Submarine Sandwiches back to the Home Page
Recipe Index|About Us|Contact Us|Survey
Disclaimer|Privacy Policy|Site Map|FAQs|Advertising Policy|