Healthy Kids Sandwiches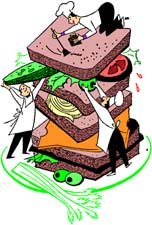 Looking for healthy kids sandwiches? Well here are a few your kids will love. Seems kids can eat some of the strangest combinations sometimes. What we might think is gross, will bond well with their taste buds. And you never know, the taste of a peanut butter and pickle sandwich may grow on you!
In order to have a healthy sandwich, you need to start with healthy ingredients. The first ingredient to a healthy sandwich would be the bread you use. Kids are still growing, so they need the foods that contain the most nutrients that will help them to do that.
Choose sprouted grain or whole wheat bread without high fructose corn syrup (HFCS) or anything you can't read. (Unless you've done your homework and know that it's okay). Check labels for jelly, peanut butter, mayo, and other fillings to make sure HFCS isn't included. Choose fresh, local, organic, veggies and fruit when they are available.
Enough about ingredients, here are a few healthy kids sandwiches your kids, or you may want to try out. And if you have some ideas for healthy sandwiches, scroll down and add them using the form below.

Recipes


Peanut Butter and Pickle Sandwich


2 slices of your favorite bread
your favorite peanut butter, creamy or crunchy
bread and butter chips, dill, or zesty pickles, sandwich style


Spread peanut butter on both slices of bread. Lay pickle chips or slices evenly on one slice of bread. Top with other slice of bread. Cut in half or into fourths. Enjoy!
Serves 1


Cucumber and Pickle Sandwich


2 slices of your favorite bread
mayonnaise
mustard (optional)
1/2 cucumber, sliced thin
2-3 slices of pickles, sliced the long way, or sandwich style pickles


Lightly toast both pieces of bread. Spread mayonnaise and mustard on both pieces of toast. Layer cucumber first, then pickles, evenly over one slice. Top with remaining slice of toast and cut in half.


Serves 1

More healthy sandwiches will be coming so bookmark us and keep checking back. In the meanwhile, if you have a few that you'd like to add, use the form below.

Go from Healthy Kids Sandwiches back to Sandwiches for Kids

Go to the Sandwiches Again? Blog

Go to the Home Page






Recipe Index|About Us|Contact Us|Survey
Disclaimer|Privacy Policy|Site Map|FAQs|Advertising Policy|