Sandwiches
Looking for Sandwiches are you? Having a tea party, birthday party, or Saturday get together? Need to find something fast? Well here are quick links to each category we have on our site. From eggs to tea to veggie, you can find each of the categories here.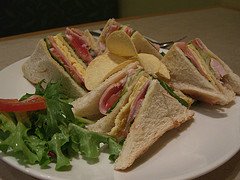 Why not plan a party with one platter of each type? A Smorgasbord maybe. Or a Fiesta. That would be fun. Or maybe even a buffet type party where everyone can make their own. Either way, here is a list of each category. Click on the links to go to each page. You'll find recipes and other ideas for making meals out of these tasty treats.
And here's all the Fun Stuff we added to our site, from fun books, to cookbooks, a gallery of pics, a quiz, weekly videos, or how to videos, you'll find them here.
And everything else to do with those yummy mini (or maxi), depending on the recipe, meal. Whether it has to do with something in a bun, in a wrap, or anything in between two slices of bread, you'll find it here.
Well there you have it, all the good stuff on an easy to find page. And you can bookmark this page so you can come back to it. I'll be adding more links to this page as we add more pages to the site, so keep checking back so that you don't miss anything really good.
And if you're looking for picnic sandwiches, check out this fun site. At healthy-picnics.com we want you and your family to eat healthy, be healthy and have fun too! Featuring tons of healthy picnic recipes, picnic ideas and outdoor games for every age. Plus! Helpful tips on hiking with kids, and hiking and picnic safety.
Well I'm off to get a snack. What should I eat? A salad? Some Soup? A smoothie? Or maybe I should just have a.......(_____you fill in the blank).
For more great recipes to go with your Sandwiches go to the Salad page.